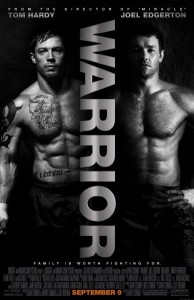 Sunday night the Australian premiere for Gavin O'Connor's Warrior was held in Sydney, with star Joel Edgerton in town to answer questions from the media and greet the fans.
In Warrior, the youngest son (Tom Hardy) of an alcoholic former boxer (Nick Nolte) returns home, where he's trained by his father for competition in a mixed martial arts tournament – a path that puts the fighter on a collision course with his older brother (Joel Edgerton).
Below is a selection of photos from the night. We have more to come, plus a video interview with Edgerton and his brother Nash in the coming days where we grill the star on the film, his upcoming role in The Great Gatsby and what's next for Blue Tongue Films. Click on any photo to enlarge.
Other celebs in the house included X-Factor's Ronan Keating and Underbelly: Razor's Izzie Stevens and Lucy Wigmore.
We need to thank Roadshow for access to the red carpet and for making this opportunity possible.
For more photos and coverage, check out The Reel Bits, Damn Good Cup and Spotlight Report.
About The League
In the beginning there was chaos, a vast information network that provided few islands of hope. Then there was a light, a shimmering hope in the darkness. A portal for lovers of the wonders of celluloid and the entertainment industry. Then there came another, and another ushering in a golden age of wonders the likes the world had never seen. By day, they live out their lives as the humble David McVay of Geek Actually, Jorge Duran of The Spotlight Report, Richard Gray of The Reel Bits, Dave Longo of Damn Good Cup and Josh Philpott of Hip Hop Net. But when the signal goes out they come together as one! The League assembles! Tremble all who dare stand in its path!
This article originally published by Richard "The Machine" Gray – TheReelBits