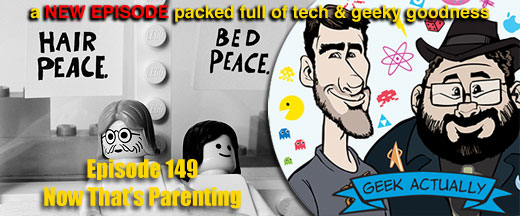 Podcast: Play in new window | Download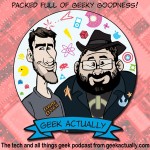 Hosted by: David McVay, Josh Philpott & Richard Gray
This week on Geek Actually David, Josh and Richard take a look at the weird and wonderful world geeks. Stories include Virgin Galactic's Spaceport, electric Deloreans, $150,000 turntables, real life levitation and holodecks, smell-o-vision and geek college courses. This plus a duet with Siri, weird food and our picks of the week. Enjoy.
Geek Actually is the fusion of the old Tech Actually and Geek Actually After Show podcasts. All the tech and geek goodness that you have come to expect from the old shows wrapped up and made easier to swallow as one simple, little, tasty podcast. DeltaKnight (AKA DAvid Murray) continues to supply us with some of the geekiest stories on the web.
Geek Actually is recorded live on Saturdays around 12pm (AEDST UTC+11). Go to geekactually.com/live to watch it live or you can also now watch the live show on Facebook – Click here to watch. Your show links follow:
Show Links
How are you supposed to kill dinosaurs with Nerf guns?
http://www.geeksaresexy.net/2011/10/18/lol-terra-nova-guns-pic/
Well the DeLorean lives! Let's get back to the….
http://www.geekologie.com/2011/10/allelectric-deloreans-coming-in-2013.php
Now this is parenting! NOT!
http://www.geekologie.com/2011/10/man-arrested-after-forcing-daughter-to-p.php
Can I tell you Iove being a geek and now everyone can do it, Geeky College Courses!
http://www.thebestdegrees.org/geeky-college-courses/
Move over Gene Roddenberry, here are real Holodecks.
http://worldsciencefestival.com/videos/introducing_the_real-life_holodeck
We are living in Sci-Fi, 3M creates transparent solar film for windows.
http://www.ubergizmo.com/2011/10/3ms-solar-films-can-be-pasted-onto-windows/
Smell-o-Vision comes to your house via Smellit!
http://technabob.com/blog/2011/10/05/smellit-aroma-devices/
Virgin Galactic's new Spaceport is now open.. I think I might have just geekgasmed a little.
http://www.virgingalactic.com/overview/spaceport/
You think you're an audiophile? Do you have a $150,000 turntable? Thought not.
http://www.geekologie.com/2011/10/another-day-another-150k-turntable.php
I have no idea how this works but it is so cool!
http://www.geeksaresexy.net/2011/10/18/demonstration-of-quantum-levitation-video/
and now, let's have hover boards please.
http://www.geekologie.com/2011/10/real-life-hoverboard-count-me-in.php
Weird Food
Think Geek has it all worked out for the Trekker baby!
http://www.gizmodo.com.au/2011/10/star-trek-inspired-feeding-set-the-trouble-with-dribbles/
And SnakeAUS wanted to share another one of his birthday cakes.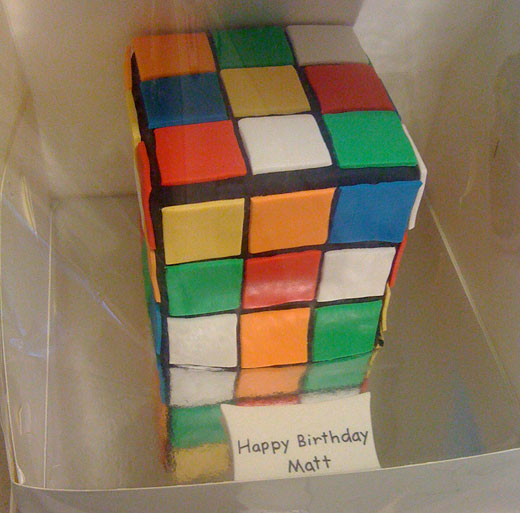 Just for the Coolness
Listener GeekBetty sent me this link for famous photos recreated in Lego.
http://www.howtobearetronaut.com/2010/06/classic-photographs-in-lego/
…And to finish the show today, we have this fun duet with Siri. It's not a person people.
http://www.swiss-miss.com/2011/10/duet-with-siri.html
Geek Picks of the Week
Every week David, Josh and Richard will give you their geek picks of the week, these could be anything from iPhone apps to a great sandwich recipe (more likely to be an app though).
This week Josh is loving Flipboard for his iPad, Richard is loving Batman: Arkham City and David wants you to gram Animoog for iPad.
As always this episode carries an explicit tag due to possible bad language.
Listen or download it here or subscribe to it on iTunes
If you have any comments about the episode or really geeky links, please leave them in the comments field below or email us at feedback@geekactually.com or send us a voicemail at 02 8011 3167 or Skype ID: geekactually (If you'd prefer to send an mp3 voice mail, mail it to the email address above and make sure the file is under 10mb.).
If you are an iTunes user, please leave us a review or a rating.
Like to geek out at the movies? Listen to our movie show, Film Actually. You can listen to it on the site or subscribe to it on iTunes.
Join us on our Facebook Fan Page: facebook.com/GeekActually or follow Geek Actually on Twitter @geekactually
Make sure you check out our new range of Geek Actually swag at cafepress.com.au/geekactually
Find out more about what Richard does by visiting theReelBits.com or follow him on Twitter @DVDbits
Find out about Josh's other site and to listen to his other show DLC Live go to RawDLC.com or hiphopnetonline.com or follow him on Twitter @DoGM3At