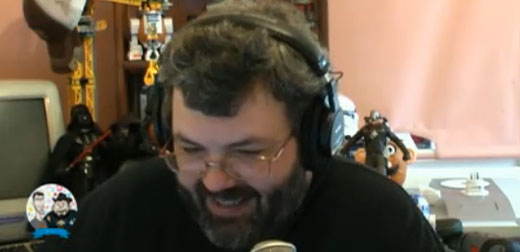 Here are the live show recordings of this week's "Geek Actually" and "Film Actually" podcasts. The shows were recorded live on October 22nd, 2011. Because the shows are live, you get them here with all the mistakes intact and boy were there mistakes this week. We had a constant flow of technical issues including the feed dropping out from under us at one point. "Film Actually" is presented here in two parts because of the problems. For a much better listening experience listen to the audio podcasts for these episodes. As always, these videos are presented here as a record of the live session and not as a reflection of the final show.
The video shows are now watchable on iOS devices as Ustream's embeds are now compatible.
The Geek Actually podcasts are recorded live every Saturday from 12pm (AEDST or UTC +11) at geekactually.com/live
 – You can now watch us live on Facebook by clicking here.
Check the individual audio show posts for the show notes. Watch the videos below.
Geek Actually Ep149 – Now That's Parenting
This week on Geek Actually David, Josh and Richard take a look at the weird and wonderful world geeks. Stories include Virgin Galactic's Spaceport, electric Deloreans, $150,000 turntables, real life levitation and holodecks, smell-o-vision and geek college courses. This plus a duet with Siri, weird food and our picks of the week.
Film Actually Ep061 – Contagion
Part 1
and Part 2
This week David, Josh and Richard review Steven Soderbergh's "Contagion". Plus they discuss a little news including the new trailer for "The Muppets" and the red band for "A Very Harold & Kumar 3D Christmas". We also have a brand new Lists of Five – Five Films That Sounded Like a Bad Idea But Boy Were We Wrong. Film Actually is the official movie podcast of geekactually.com. Due to technical issues, the episode is in two parts.
All Geek Actually shows carry an explicit tag due to infrequent coarse language.
You can subscribe to the audio podcasts by searching for "Film Actually" or "Geek Actually" in iTunes
You can send feedback for Film Actually to feedback@filmactually.com. You can also leave us a voice mail to play on the show by calling (Sydney number) 02 8011 3167 (or Skype ID: geekactually)
Join us on our Facebook Fan Page: facebook.com/GeekActually
Follow us on Twitter: David is @davidmcvay, Josh is @DoGM3At, Geek Actually is @geekactually and Richard is @DVDbits
Get your Geek Actually swag at cafepress.com.au/geekactually
For information on the Unofficial Geek Actually Movie Club screening times and titles, visit our Facebook Page. Geek Actually logos by Josh Spencer (attackninja.blogspot.com) – Old Tech Actually Theme by Grant Noy – Geek Actually theme arranged by David McVay.