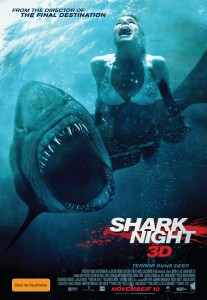 WIN 3D DOUBLE PASSES TO SEE "SHARK NIGHT 3D"!
Our good friends over at Icon Film Distribution have given us 10 3D double passes to see the new David R. Ellis ("Snakes on a Plane") horror movie.
SHARK NIGHT 3D – only at the Movies November 10
A group of friends spend a weekend at a lakeside house only to find that danger lurks beneath the waters. Yet their biggest fear is realised when they discover that the lake's shark inhabitants are not their only enemy. When attempts to skip town fail one by one, these college kids—or the ones who are left—will have to battle their enemies head-on in order to survive.
"Shark Night 3D" is directed by David R. Ellis and written by Will Hayes & Jesse Studenberg. It stars Sara Paxton, Dustin Milligan, Chris Carmack, Katharine McPhee, Chris Zylka, Alyssa Diaz, Joel David Moore, Donal Logue, Sinqua Walls and Joshua Leonard.
Make sure you catch our interview with Chris Zylka by clicking here.
The competition closes Friday November 4th 2011, so be quick!