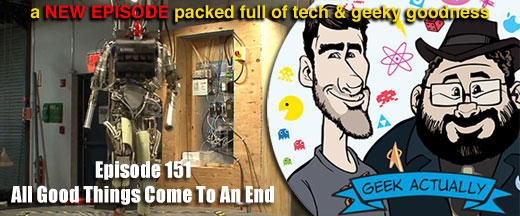 Podcast: Play in new window | Download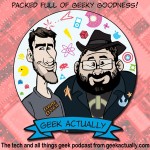 Hosted by: David McVay & Josh Philpott
This week on Geek Actually David and Josh take a look at the weird and wonderful world of geeks. Stories include terminator style robots a reality, unmanned fighter jets, synthetic blood, bendable self powered e-ink paper, pumpkin carving with combustible gases, a killer asteroid and crazed gunmen who think their neighbour is threatening them telepathically! All this plus edible spray paint, listener feedback and our picks of the week. Enjoy.
It is a sad day as this will be the last episode of the Geek Actually podcast. Due to new work commitments something had to give, so after three years and 151 episodes, this podcast will no longer be produced.
Fear not though as we aren't going anywhere, Film Actually will continue and we have a new podcast that has just launched about comic books called Behind the Panels and you can still find those shows here at geekactually.com or search for them on iTunes.
Your show links follow:
Show Links
The Impending Robot Apocalypse
One step closer to terminators?
http://www.geekologie.com/2011/10/two-steps-away-from-terminators-boston-d.php
…and air support to boot!
http://www.gizmodo.com.au/2011/10/the-navys-robot-jet-fighter-goes-for-its-first-cruise/
We might need this after the robots have wiped out most of mankind – synthetic blood.
http://inhabitat.com/artificial-blood-coming-to-a-hospital-near-you/
One step closer to Caprica style electronic paper.
http://www.gizmodo.com.au/2011/10/finally-an-electronic-paper-display-i-can-crumple-up-and-throw-away/
He blinded them with science! This is how you carve a pumpkin.
http://www.geeksaresexy.net/2011/11/01/carving-a-pumpin-with-science-video/
Whackos-R-Us! Man shoots his neighbour because of telepathic threats!
http://www.geekologie.com/2011/11/man-shoots-neighbor-for-telepathic-threa.php
There has to be easier ways to fly!
http://www.geekologie.com/2011/11/dont-move-first-manned-multicopter-fligh.php
Here's a story to make you crap your pants!
http://www.geekologie.com/2011/11/the-sky-is-falling-asteroid-to-pass-clos.php
A toilet made from circuit boards… ow!
http://www.geeksaresexy.net/2011/11/02/the-royal-data-throne-pics/
What?!? Real life Quidditch.
http://www.geeksaresexy.net/2011/11/01/quidditch-world-cup-to-be-held-in-nyc-nov-12-13/
Weird Food
Edible spray paint…mmmmm.
http://www.geekologie.com/2011/10/no-longer-just-huffable-edible-spraypain.php
Geek Picks of the Week
Every week David and/or Josh will give you their geek picks of the week, these could be anything from iPhone apps to a great sandwich recipe (more likely to be an app though). This week Josh takes centre stage as he tells us about his new 15″ laptop, it's very nice.
As always this episode carries an explicit tag due to possible bad language.
Listen or download it here or subscribe to it on iTunes
If you have any comments about the episode or really geeky links, please leave them in the comments field below or email us at feedback@geekactually.com or send us a voicemail at 02 8011 3167 or Skype ID: geekactually (If you'd prefer to send an mp3 voice mail, mail it to the email address above and make sure the file is under 10mb.).
If you are an iTunes user, please leave us a review or a rating.
Like to geek out at the movies? Listen to our movie show, Film Actually. You can listen to it on the site or subscribe to it on iTunes.
Join us on our Facebook Fan Page: facebook.com/GeekActually or follow Geek Actually on Twitter @geekactually
Make sure you check out our new range of Geek Actually swag at cafepress.com.au/geekactually
Find out about Josh's other site and to listen to his other show DLC Live go to RawDLC.com or hiphopnetonline.com or follow him on Twitter @DoGM3At