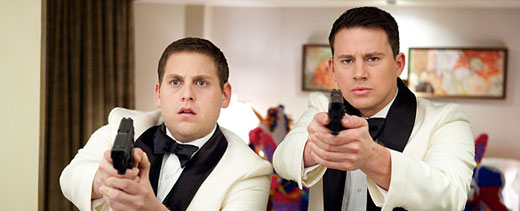 Another TV show from the 80s turned into a big screen feature film, why?!? 21 Jump Street was a cheesy, camp cop show from the mind of Stephen J Cannell, the creator of The A-Team, that centred around a special police unit that patrolled high schools. It was stupid then and I hate to say it but the new film doesn't look much better. This is the red band trailer so it might be a little NSFW.
Jonah Hill has lost a ton of weight for this film and Channing Tatum looks as dopy as ever… I have a bad feeling about this one.
In the action-comedy 21 Jump Street, Schmidt (Jonah Hill) and Jenko (Channing Tatum) are more than ready to leave their adolescent problems behind. Joining the police force and the secret Jump Street unit, they use their youthful appearances to go undercover in a local high school. As they trade in their guns and badges for backpacks, Schmidt and Jenko risk their lives to investigate a violent and dangerous drug ring. But they find that high school is nothing like they left it just a few years earlier – and neither expects that they will have to confront the terror and anxiety of being a teenager again and all the issues they thought they had left behind.
21 Jump Street will be released on the 16th of March 2012 in the US and on 29th of March 2012 in Australia from Sony.