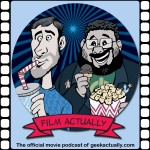 Hosts: David McVay & Josh Philpott
This week David & Josh review "Anonymous". Plus they discuss a little entertainment news including the new Bond film "Skyfall" and the new trailers for "Underworld: Awakening" and "21 Jump Street". All this plus feedback and a brand new Lists of Five – Five Literary Films. Film Actually is the official movie podcast of geekactually.com.
If you are an iTunes user, please leave a review. Your comments help us improve the show.
This show carries an explicit tag due to infrequent coarse language.
Listen or download it here or subscribe to it on iTunes
Podcast: Play in new window | Download
Your Show Notes:
What We've Been Watching
A collection of other things we've been watching this week. David got to see a special IMAX presentation of footage from "Mission: Impossible – Ghost Protocol" and the low budget sic-fi film "Hunter Prey". Jost watched "Feast 2", "Sharktopus" and "Battle of Los Angeles". Both David and Josh saw an early screening of The Adventures of Tintin" and although aren't allowed to review it yet, they give a few initial thoughts.
Feature Film Review
'Anonymous' directed by Roland Emmerich and written by John Orloff. It stars Rhys Ifans, Vanessa Redgrave, David Thewliss, Sebastian Armesto, Rafe Spall, Joely Richardson, Jamie Campbell Bower and Edward Hogg.
Set in the political snake-pit of Elizabethan England, Anonymous speculates on an issue that has for centuries intrigued academics and brilliant minds such as Mark Twain, Charles Dickens, and Sigmund Freud, namely: who actually created the body of work credited to William Shakespeare? Experts have debated, books have been written, and scholars have devoted their lives to protecting or debunking theories surrounding the authorship of the most renowned works in English literature. Anonymous poses one possible answer, focusing on a time when scandalous political intrigue, illicit romances in the Royal Court, and the schemes of greedy nobles lusting for the power of the throne were brought to light in the most unlikely of places: the London stage. Source: Sony Pictures.
Our Verdict: Some poor casting choices make this an interesting film to watch but no masterpiece. Rhys Ifans is the highlight, delivering a staggering performance that deserves awards.
Watch the trailer here: http://trailers.apple.com/trailers/sony_pictures/anonymous/
Entertainment Buzz
The new trailer for "Underworld Awakening"
http://movies.yahoo.com/movie/1810201539/video/27135675
James Bond 23 – Skyfall officially announced.
http://www.thereelbits.com/2011/11/04/bond-23-skyfall-officially-launched/
"21 Jump Street" red band trailer hits the web.
http://www.youtube.com/watch?v=RLoKtb4c4W0&feature=player_embedded
The first trailer for "The Lorax" – What have they done!?!
http://www.youtube.com/watch?v=M_T6SsDvO7Q&feature=player_embedded
Feedback
Listener Zedd wanted these 3 links brought to our attention.
Strippers vs. Werewolves
http://www.imdb.com/title/tt1702009/
The Pirates: in an adventure with scientists.
http://www.imdb.com/title/tt1430626/
Have you looked at the IMDB entry for The Muppets. The list of stars is crazy. Also, there is a Muppet trailer you haven't played yet that ends with Wanda Sykes and Danny Trejo.
http://www.imdb.com/title/tt1204342/
Agree or disagree with us or you just have something to say? send email to feedback@filmactually.com or drop us a voicemail at 02 8011 3167.
Lists of Five
This week our Lists of Five: Five Literary Films. From beautiful costumes and flowery language to flying cars and magnificent submarines, many great films are based on amazing pieces of classic literature, here are our five favourite films based on or about classic literature.
Just a reminder, because we never like to just make things easy on ourselves, our lists are not necessarily top five lists, they are more or a less a list of film recommendations within the theme of the list.
The Rest…
David's "My Year With Movies" blog is on Tumbr
Join us on our Facebook Fan Page: facebook.com/GeekActually or follow Geek Actually on Twitter @geekactually
Make sure you check out our new range of Geek Actually swag at cafepress.com.au/geekactually
The Reel Junkies podcast can be found at weekendronin.com
Brad and Charlie (formerly of "Movie Fan House") are back, their new site is ReboundRadio.com and their new podcasts are "Good Day Sir!" and "Movie Match Up"
Find out more about Josh's other stuff by visiting HipHopNetOnline.com or listen to his other show "DLC Live" go to RawDLC.com or follow him on Twitter @DoGM3At
Find more by Richard Gray by visiting theReelBits.com or follow him on Twitter @DVDbits
We are closing the show with Michael Giacchino's take on the "Mission: Impossible" theme from "Mission: Impossible 3".
The opening clip is from "V for Vendetta"