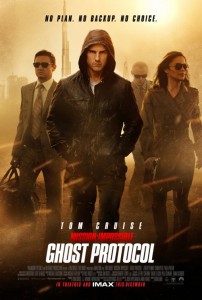 Our friends over at Paramount Pictures Australia invited Geek Actually to take a look at some IMAX footage from the upcoming film "Mission: Impossible – Ghost Protocol" and let me tell you it was very impressive indeed.
We saw two completed scenes in floor to ceiling IMAX and it took my breath away. Director Brad Bird ("The Incredibles" & "The Iron Giant"), who is making his live action debut, delivers pulse pounding action that is directed with such assurance that you would think he was a veteran action film director.
The first scene we saw was the one you might be familiar with if you have seen the trailers and it is set high up on the very tall Burj Khalifa building in Dubai. It moves along at a swift pace and revolves around Ethan Hunt (Tom Cruise) needing to get into the server room of the bad guys, the problem is he can only access it from outside. Cue amazing climbing scene as Ethan scales the outside of the bloody tall building with sticky gloves! This scene really uses IMAX to its full potential with high shots looking straight down as Ethan climbs, swings and almost falls on several occasions. While this is going on, the other members of the team, Brandt (Jeremy Renner), Simon Pegg (Benji Dunn) & Paula Patton (Jane Carter) are running around getting the other aspects of the mission done. All of this cross cutting between the team and Ethan climbing is made more tense by the fact that they only have a short time to do it all. All in all, this scene is edge of your seat stuff. The IMAX format makes the high scenes toe tinglingly effective.
The second scene we saw was a foot chase in a thick sand storm. Judging by the set up and the location, this scene follows pretty closely after the first scene we saw. This is a tricky scene to shoot as visibility is non-existent and it could be really easy to lose track of characters and audiences could get disorientated easily. Once again Brad Bird knows what he is doing, this scene is tight and the lack of visibility really helps build the tension. Ethan uses a GPS style tracker as a plot device to help locate the person he is chasing while also helping re-orientate the audience through the scene. This is great scene and I love the tension that is built by not knowing what could come flying out of the sand storm.
All in all this was a great presentation and left me really wanting to see more. Brad Bird looks like he really has nailed the material and the cast is strong. I look forward to December 15th.
Paramount Pictures Australia have also given us the video below for you to enjoy, it is a behind the scenes look at the making of the climbing scene.
"Mission: Impossible – Ghost Protocol" is due for release in Australia on the 15th of December.