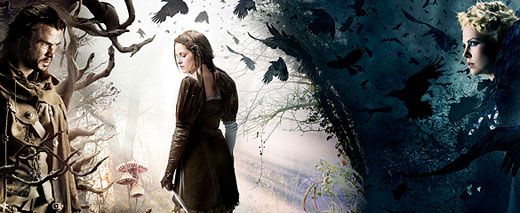 Universal has debuted the first trailer for Snow White and the Huntsman directed by Rupert Sanders and I just have to say I wasn't it expecting it to look this good. It is still early and the film may or may not be great but this trailer is awesome. I do suggest that you click the link below and watch it in HD over at Apple, the visuals are worth the download.
Here are some of the recently released character posters:
In the epic action-adventure Snow White and the Huntsman, Kristen Stewart plays the only person in the land fairer than the evil queen (Charlize Theron) who is out to destroy her. But what the wicked ruler never imagined is that the young woman threatening her reign has been training in the art of war with a huntsman (Chris Hemsworth) who was dispatched to kill her. Sam Claflin (On Stranger Tides) joins the cast as the prince long enchanted by Snow White's beauty and power. The movie is being directed by Rupert Sanders, an acclaimed commercials director making his feature debut.
Snow White and the Huntsman hits US theatres next summer.
Or watch it in HD at Apple