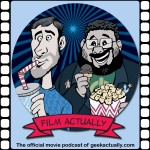 Hosts: David McVay, Josh Philpott & Richard Gray
This week David, Josh & Richard review "Shark Night 3D". Plus they discuss a little entertainment news including Universal's attack on their own films, Billy Crystal returns to the Oscars and they take in the new trailer for "Snow White and the Huntsman". All this plus the final, final parody clip for "The Muppets" and a brand new Lists of Five – Five Films Where We Want The Cast to Be Finished Off Faster. Film Actually is the official movie podcast of geekactually.com.
If you are an iTunes user, please leave a review. Your comments help us improve the show.
This show carries an explicit tag due to infrequent coarse language.
Listen or download it here or subscribe to it on iTunes
Podcast: Play in new window | Download
Your Show Notes:
Shameless Plug Time – Make sure you check out our new comic book podcast "Behind the Panels" hosted by David McVay & Richard Gray. Every week we bring you news from the world of comic books and comic book related movies and TV. We also go into deep analysis on our favourite comic books in our Book Club style Comic Pick of the Week. Find it here on Geek Actually or subscribe for free on iTunes.
What The Geeks Have Been Watching
A collection of other things we've been watching this week. Richard has been taking in the Japanese Film Festival and still had time to watch "Immortals", "The Muppets", "Ages of Love", "The Orator", "Fighting Fear" and micro reviews "Moneyball". David also saw "Immortals" and "The Muppets" but hated "30 Minutes or Less". Josh also saw "The Immortals" but most of his week was taken up catching up on game reviews.
Feature Film Review
'Shark Night 3D' directed by David R. Ellis and written by Will Hayes & Jesse Studenberg. It stars Sara Paxton, Dustin Milligan, Chris Carmack, Katharine McPhee, Chris Zylka, Alyssa Diaz, Joel David Moore, Sinqua Walls and many other expendable cast members that we have practically never heard of before.
A weekend at a lake house in the Louisiana Gulf turns into a nightmare for seven vacationers as they are subjected to shark attacks. Source: IMDB.
Our Verdict: David R. Ellis does it again, he proves that he has no idea what he is doing behind the camera. Flat characters and the most ridiculous plot reveal in recent memory. After "Piranha 3D' proved that audiences wanted gore, boobs and fun in their monster movies, "Shark Night 3D" waters it down so much that you barely see any one munched and there is no nudity whatsoever. We have seen Disney cartoons with more edge than this soggy monster movie.
Watch the trailer here: http://trailers.apple.com/trailers/independent/sharknight3d/
Entertainment Buzz
Universal Chief Ron Meyer slams his own movies – refreshing.
http://www.movieline.com/2011/11/universal-chief-ron-meyer-addresses-tower-heist-vod-fiasco-admits-cowboys-aliens-land-of-the-lost-wo.php?page=1
The new trailer for "Snow White and the Huntsman" – Not quite what I expected.
http://trailers.apple.com/trailers/universal/snowwhiteandthehuntsman/
Billy Crystal returns to the Oscars as host.
http://www.slashfilm.com/billy-crystal-oscar-host/
"The Muppets" haven't quite finished with the parody trailers yet.
http://www.youtube.com/watch?v=ScedHBmLpDs
Lists of Five
This week our Lists of Five: Five Films Where We Want The Cast to Be Finished Off Faster. Ever watched a film where you just wanted the killer to hurry up and finish them all off so you can go home? Yeah us to, here are five of them.
Just a reminder, because we never like to just make things easy on ourselves, our lists are not necessarily top five lists, they are more or a less a list of film recommendations within the theme of the list.
The Rest…
David's "My Year With Movies" blog is on Tumbr
Join us on our Facebook Fan Page: facebook.com/GeekActually or follow Geek Actually on Twitter @geekactually
Make sure you check out our new range of Geek Actually swag at cafepress.com.au/geekactually
The Reel Junkies podcast can be found at weekendronin.com
Brad and Charlie (formerly of "Movie Fan House") are back, their new site is ReboundRadio.com and their new podcasts are "Good Day Sir!" and "Movie Match Up"
Find out more about Josh's other stuff by visiting HipHopNetOnline.com or listen to his other show "DLC Live" go to RawDLC.com or follow him on Twitter @DoGM3At
Find more by Richard Gray by visiting theReelBits.com or follow him on Twitter @DVDbits
We are closing the show with Graeme Revell's opening track from the soundtrack to "Shark Night 3D".
The opening clip is from "Sharktopus"
PLEASE NOTE: We made an error in the episode, next week we will talk about "Immortals" but the feature review is actually "The Twilight Saga: Breaking Dawn Part 1" with special guest reviewer Robyn Smith.