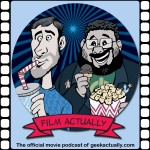 Hosts: David McVay, Josh Philpott & Robyn Smith
This week David & Josh are joined by Robyn Smith for a review of the latest in the Twilight Franchise, "The Twilight Saga: Breaking Dawn Part 1". They also discuss a little entertainment news including "Rocky: The Musical", the Jim Henson Co.'s new sitcom and the comic book character Booster Gold heads for TV. All this plus a brand new Lists of Five – Five Damsel in Distress Movies. Film Actually is the official movie podcast of geekactually.com.
If you are an iTunes user, please leave a review. Your comments help us improve the show.
This show carries an explicit tag due to infrequent coarse language.
Listen or download it here or subscribe to it on iTunes
Podcast: Play in new window | Download
Your Show Notes:
Shameless Plug Time – Make sure you check out our new comic book podcast "Behind the Panels" hosted by David McVay & Richard Gray. Every week we bring you news from the world of comic books and comic book related movies and TV. We also go into deep analysis on our favourite comic books in our Book Club style Comic Pick of the Week. Find it here on Geek Actually or subscribe for free on iTunes. Also like the Facebook page here.
What The Geeks Have Been Watching
A collection of other things we've been watching this week. Josh watched the "Boogeyman 3" and "Prom Night" (the original and the remake). David is watching season two of "The Walking Dead". Robyn has been catching up with the TV series "Supernatural".
Feature Film Review
'The Twilight Saga: Breaking Dawn Part 1' directed by Bill Condon and written by Melissa Rosenberg based on the novel by Stephenie Meyer. It stars Kristen Stewart, Robert Pattinson, Taylor Lautner, Peter Facinelli, Jackson Rathbone, Ashley Greene and Billie Burke.
In The Twilight Saga: Breaking Dawn – Part 1, Bella and Edward, plus those they love, must deal with the chain of consequences brought on by a marriage, honeymoon, and the tumultuous birth of a child…which brings an unforeseen and shocking development for Jacob Black. Source: Summit Entertainment
Our Verdict: More of the same from this terrible series. This time the film is very pretty but ultimately empty. If you have invested the time in the series so far, you might as well watch it but otherwise stay clear.
Watch the trailer here: http://trailers.apple.com/trailers/summit/thetwilightsagabreakingdawnpart1/
Entertainment Buzz
Booster Gold is heading to TV.
http://www.hollywoodreporter.com/news/syfy-booster-gold-greg-berlanti-261801
"Rocky the Musical"!
http://www.hollywoodreporter.com/news/sylvester-stallone-rocky-musical-klitschko-264421
Aaron Sorkin is considering writing the Steve Jobs biopic.
http://www.slashfilm.com/aaron-sorkin-strongly-steve-jobs-biopic/
Jim Henson Co. pitches a new puppet sitcom – "The New Nabors"
http://www.deadline.com/2011/11/nbc-buys-hybrid-human-puppet-family-comedy-from-the-jim-henson-co/
Lists of Five
This week our Lists of Five: Five Damsel in Distress Movies. When will my hero come? You get the idea.
Just a reminder, because we never like to just make things easy on ourselves, our lists are not necessarily top five lists, they are more or a less a list of film recommendations within the theme of the list.
The Rest…
David's "My Year With Movies" blog is on Tumbr
Join us on our Facebook Fan Page: facebook.com/GeekActually or follow Geek Actually on Twitter @geekactually
Make sure you check out our new range of Geek Actually swag at cafepress.com.au/geekactually
The Reel Junkies podcast can be found at weekendronin.com
Read Robyn's other great Twilight essays HERE, HERE and HERE
Brad and Charlie (formerly of "Movie Fan House") are back, their new site is ReboundRadio.com and their new podcasts are "Good Day Sir!" and "Movie Match Up"
Find out more about Josh's other stuff by visiting HipHopNetOnline.com or listen to his other show "DLC Live" go to RawDLC.com or follow him on Twitter @DoGM3At
Find more by Richard Gray by visiting theReelBits.com or follow him on Twitter @DVDbits
We are closing the show with a track called 'I Know What You Are' from Carter Burwell's original score to the first "Twilight" film.
The opening clip is from the 2008 "Twilight"
Go see more movies, you don't see enough movies and all of life's questions are answered in the movies.