Podcast: Play in new window | Download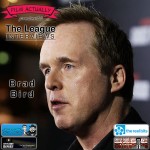 Touring Australia with Paramount and the Australian launch of Mission: Impossible – Ghost Protocol, we were lucky enough to sit down at a roundtable with Brad Bird when he visited Sydney. The film marks Bird's live action debut, although he counts the masterpieces The Iron Giant, Ratatouille and The Incredibles amongst his credits.
We chat with Mr. Bird on working with J.J. Abrams, on jumping in at the deep end using IMAX cameras, finding an insurance company mad enough to allow Tom Cruise to swing about on buildings in Dubai, on the possibility of Jeremy Renner replacing Tom Cruise in the franchise, directing actors in a live action environment coming from an animated background, the process of working with Michael Giacchino on the score of the film, the possibility of a sequel to The Incredibles, the freedom of working within a franchise, breaking Pixar habits, working with the biggest star in the world, advice for aspiring (or is that perspiring) filmmakers.
We'd like to thank Way to Blue and Paramount Australia for making this possible, and of course Brad Bird for his generous answers.
About the Roundtable
The interview took place on 4 December 2011 in Sydney, Australia. Participants in the roundtable included  David McVay from Geek Actually, Richard Gray of The Reel Bits, Geoff Reid of Cinefools, Matt Pejkovic of Matt's Movie Reviews, David Longo of Damn Good Cup and Jorge Duran of The Spotlight Report.
About The League
In the beginning there was chaos, a vast information network that provided few islands of hope. Then there was a light, a shimmering hope in the darkness. A portal for lovers of the wonders of celluloid and the entertainment industry. Then there came another, and another ushering in a golden age of wonders the likes the world had never seen. By day, they live out their lives as the humble David McVay of Geek Actually, Jorge Duran of The Spotlight Report, Richard Gray of The Reel Bits, Dave Longo of Damn Good Cup and Josh Philpott of Hip Hop Net. But when the signal goes out they come together as one! The League assembles! Tremble all who dare stand in its path!
Mission: Impossible – Ghost Protocol is released in Australia on 15 December 2011 from Paramount.
Text originally written by Richard Gray – TheReelBits.com