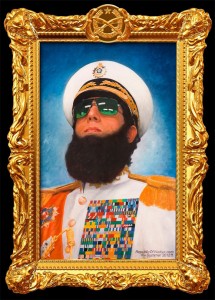 Our good friends over at Paramount Pictures Australia have made the trailer for Sacha Baron Cohen's new film "The Dictator", directed by Larry Charles, available to us. This time 'round Sacha Baron Cohen plays a ruthless Middle Eastern dictator, along the lines of Muammar Gaddafi, who's sent to America in exile and must live among the infidels.
I really loved "Borat" but was wholly uninspired to see "Bruno". This trailer kind of falls into the latter category, the humour is a little Adam Sandlerish and it failed to really generate to many laughs from me. I do think that Sacha Baron Cohen is talented and I hope I am wrong about this as the plot shows promise.
We'll be able to see "The Dictator" in May 2012.