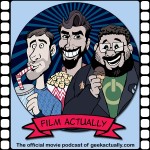 Hosts: David McVay, Josh Philpott & Richard Gray
This week the boys review officially review "The Artist" and un-officially review "Chronicle". Also the latest from Josh's Bargain Basement – "P2", What We've Been Watching and a brand new Lists of Five – Five Homage Movies. Film Actually is the official movie podcast of geekactually.com.
The news section is now officially it's own show called Film Actually News. Look for it on the feed because it is loud, fast and under thirty minutes… or your money back.
If you are an iTunes user, please leave a review. Your comments help us improve the show.
This show carries an explicit tag due to infrequent coarse language.
Listen or download it here or subscribe to it on iTunes
Podcast: Play in new window | Download
Your Show Notes:
Shameless Plug Time – Make sure you check out our new comic book podcast "Behind the Panels" hosted by David McVay & Richard Gray. Every week we bring you news from the world of comic books and comic book related movies and TV. We also go into deep analysis on our favourite comic books in our Book Club style Comic Pick of the Week. Find it here on Geek Actually or subscribe for free on iTunes. Also like the Facebook page here.
What Else We've Been Watching
Films covered this week are "Star Wars Episode 1 – The Phantom Menace in 3D" and Josh's Bargain Basement Film – "P2".
Un-Official Feature Film Review
'Chronicle' directed by Josh Trank. It is written by Max Landis from a story by Max Landis & Josh Trank. It stars Dane DeHaan, Michael B. Jordan, Michael Kelly, Ashley Hinshaw and Alex Russell.
Three high school friends gain superpowers after making an incredible discovery. Soon, though, they find their lives spinning out of control and their bond tested as they embrace their darker sides. Source: IMDB
Our Verdict: A really interesting and clever new take on the 'found film' style genre. Great performances and clever special effects make for a very entertaining romp.
Watch the trailer here: http://trailers.apple.com/trailers/fox/chronicle/
Official Feature Film Review
'The Artist' written & directed by Michel Hazanavicius. It stars Jean Dujardin, Berenice Bejo, John Goodman, James Cromwell, Missi Pyle, Penelope Ann Miller, Ed Lauter and Malcolm McDowell.
Hollywood, 1927: As silent movie star George Valentin wonders if the arrival of talking pictures will cause him to fade into oblivion, he sparks with Peppy Miller, a young dancer set for a big break. Source: IMDB
Our Verdict: An utterly charming, beautifully made tribute to the golden age of cinema. A must see for all film buffs.
Spoiler Section: 36:25 – 44:18 – Fast forward this bit if you don't want to hear spoilers.
Watch the trailer here: http://trailers.apple.com/trailers/weinstein/theartist/
Lists of Five:
This week our Lists of Five: Five Homage Movies. Taking a cue from The Artist, here are five more films that pay homage to another time, place or film.
Just a reminder, because we never like to just make things easy on ourselves, our lists are not necessarily top five lists, they are more or a less a list of film recommendations within the theme of the list.
The Rest…
Join us on our Facebook Fan Page: facebook.com/GeekActually or follow Geek Actually on Twitter @geekactually
Make sure you check out our new range of Geek Actually swag at cafepress.com.au/geekactually
The Reel Junkies podcast can be found at weekendronin.com
Brad and Charlie (formerly of "Movie Fan House") are back, their new site is ReboundRadio.com and their new podcasts are "Good Day Sir!" and "Movie Match Up"
Find out more about Josh's other stuff by visiting HipHopNetOnline.com or listen to his other show "DLC Live" go to RawDLC.com or follow him on Twitter @DoGM3At
Find more by Richard Gray by visiting theReelBits.com or follow him on Twitter @DVDbits
We opened the show with a clip from "Singin' in the Rain"
We close the show with a sample of the score from "The Artist".
Go see more movies, you don't see enough movies and all of life's questions are answered in the movies.