Podcast: Play in new window | Download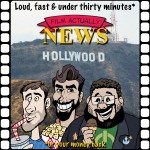 Hosts: David McVay, Josh Philpott & Richard Gray
Welcome to the brand new Film Actually News for March 5th, 2012. This week the first Prometheus viral video hits the web, Ralph McQuarrie dies, Russell Crowe might be Noah, Jason Segel says no to The Muppets 2, The Lone Ranger actually starts shooting, a new trailer for The Avengers and much, much more!
What used to be a boring, stuffy film section of the Film Actually podcast has been spun off into it's own, we hope, more entertaining show. We don't make the news, we just have fun with it. Film Actually News – Loud, Fast and Under Thirty Minutes… or your money back.
If you are an iTunes user, please leave a review. Your comments help us improve the show.
This show carries an explicit tag due to coarse language.
Listen or download it here or subscribe to it on iTunes
In case you want the full stories, here are your show links follow:
Prometheus viral video – Peter Weyland at Ted 2023
http://geekactually.com/2012/02/29/prometheus-viral-video-peter-weyland-at-ted-2023/
Star Wars concept artist Ralph McQuarrie Dies at 82
http://www.thereelbits.com/2012/03/04/star-wars-concept-artist-ralph-mcquarrie-dies-at-82/
Human Centipede Part 3 (Final Sequence) will feature Dieter Laser, Laurence R. Harvey and director Tom Six
http://www.slashfilm.com/human-centipede-part-3-final-sequence-feature-dieter-laser-laurence-harvey-director-tom/
Russell Crowe as Noah?!
http://www.slashfilm.com/russell-crowe-talks-darren-aronofsky-noah/
The Killing's Joel Kinnanman Gets Robocop Offer
http://www.deadline.com/2012/02/the-killings-joel-kinnaman-gets-robocop-offer/
31-Disc Harry Potter Blu-ray box set revealed
http://www.slashfilm.com/31disc-harry-potter-bluray-box-set-revealed/
Ghostbusters 3 is in suspended animation and Bill Murray is out
http://www.telegraph.co.uk/culture/film/9097816/Dan-Aykroyd-a-comedy-legends-spiritual-side.html
Scarlett Johansson and James D'Arcy Join Alfred Hitchcock and the Making of Psycho
http://www.comingsoon.net/news/movienews.php?id=87657
The Town scribe putting pen to paper for Top Gun 2
http://www.filmschoolrejects.com/news/top-gun-2-writer-nadam.php
The Avengers trailer 2 – 'nuff said
http://geekactually.com/2012/03/01/hot-trailer-marvels-the-avengers-trailer-2/
The Lone Ranger starts principal photography
http://www.comingsoon.net/news/movienews.php?id=87551
Full ParaNorman trailer: He's Not Like Other Kids
http://www.filmschoolrejects.com/news/paranorman-trailer-kerbl.php
The Muppets sequel is moving ahead but no Jason Segel.
http://www.vulture.com/2012/03/new-muppet-movie-in-the-works-but-without-jason-segel.html
Supplement: http://www.comingsoon.net/news/movienews.php?id=87700
The Rest…
Join us on our Facebook Fan Page: facebook.com/GeekActually or follow Geek Actually on Twitter @geekactually
Make sure you check out our new range of Geek Actually swag at cafepress.com.au/geekactually
Find out more about Josh's other stuff by visiting HipHopNetOnline.com or listen to his other show "DLC Live" go to RawDLC.com or follow him on Twitter @DoGM3At
Find more by Richard Gray by visiting theReelBits.com or follow him on Twitter @DVDbits
Shameless Plug Time – Make sure you check out our new comic book podcast "Behind the Panels" hosted by David McVay & Richard Gray. Every week we bring you news from the world of comic books and comic book related movies and TV. We also go into deep analysis on our favourite comic books in our Book Club style Comic Pick of the Week. Find it here on Geek Actually or subscribe for free on iTunes. Also like the Facebook page here.