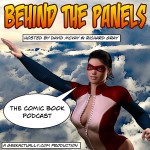 Hosted By: David McVay & Richard Gray
David and Richard discuss the latest in news from the world of comics in this bumper double sized super special. This week our favourite mountain man Alan Moore makes merry with with Gentlemen, and Smallville: Season 11 details and Rob Liefield profit of doom. THEN WB sets a date for the 300 sequel, and The Avengers: Earth's Mightiest Heroes Season 2 is on its way. PLUS our hottest reads from this week's releases and our kick-ass Pick(s) of the Week: The New 52 – Six Months On.
Our next reading assignment: Kick-Ass 2.
Podcast: Play in new window | Download
Behind the Panels is still a work in progress, help us craft this show (via email and feedback) into the finest comic book podcast on the market. Make sure you subscribe to Behind the Panels on the link below.
Have you got something to say? We want to hear from you, send email to comics@geekactually.com or drop us a voicemail at 02 8011 3167 (Skype ID: geek actually) and we'll play it on the show.
If you are an iTunes user, subscribe for free here and please leave us feedback. The next two or three issues will also come out on the Geek Actually and Film Actually feeds to get things started.
Make sure you check out our other fine podcasts Film Actually and Film Actually News for the latest in cinema reviews and news.
Your Show Notes:
Comic News
First Look at League of Extraordinary Gentlemen: Century 2009
http://www.bleedingcool.com/2012/03/22/preview-league-of-extraordinary-gentlemen-century-2009/
Bryan Q. Miller reveals Smallville: Season 11 details
http://au.comics.ign.com/articles/122/1221300p1.html
Rob Liefield says sales for Grifter, Deathstroke and Hawkman have "fallen off a cliff"
http://www.bleedingcool.com/2012/03/23/rob-liefeld-says-sales-for-grifter-deathstroke-and-hawkman-have-fallen-off-a-cliff/
See also – February 2012 Top 300 Comics: http://www.icv2.com/articles/news/22381.html
Movie News
WB sets date for 300 sequel
http://www.superherohype.com/news/articles/169951-warner-bros-sets-300-sequel-for-august-2-2013
Avengers: Earth's Mightiest Heroes – Season 2 Trailer
http://video.comicbookresources.com/television-clips/avengers-earths-mightiest-heroes-season-2-trailer/
The Rest…
Join us on our new Facebook Fan Page, follow Geek Actually on Twitter @geekactually and follow David on Twitter @davidmcvay Find more by Richard Gray by visiting theReelBits.com or follow him on Twitter @DVDbits
Make sure you check out our new range of Geek Actually swag at cafepress.com.au/geekactually
The music used for this episode is from "Superman Returns". Main Theme by John Williams, arranged by John Ottman.