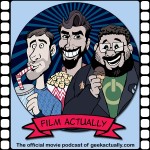 Hosts: David McVay & Josh Philpott
This week David & Josh review "The Hunger Games". Plus What We've Been Watching, Josh's Bargain Basement and a brand new Lists of Five – Five Hunting Movies. Film Actually is the official movie podcast of geekactually.com.
The news section is now officially it's own show called Film Actually News. Look for it on the feed because it is loud, fast and under thirty minutes… or your money back.
If you are an iTunes user, please leave a review. Your comments help us improve the show.
This show carries an explicit tag due to infrequent coarse language.
Listen or download it here or subscribe to it on iTunes
Podcast: Play in new window | Download
Your show links follow:
What We've Been Watching:
A collection of other things we've been watching during the week including We Bought a Zoo, Traffic and Memento. Plus Josh's Bargain Basement: In God's Hands.
Feature Film Review
'The Hunger Games' directed by Gary Ross and written by Gary Ross, Suzanne Collins and Billy Ray and is based on the novel by Suzanne Collins. It stars Jennifer Lawrence, Josh Hutcherson, Stanley Tucci, Wes Bentley, Elizabeth Banks, Donald Sutherland, Toby Jones, Lenny Kravitz and Woody Harrelson.
Set in a future where the Capitol selects a boy and girl from the twelve districts to fight to the death on live television, Katniss Everdeen volunteers to take her younger sister's place for the latest match. Source: IMDB
Spoiler Section: 00:31:29 – 00:39:42 – Fast forward this bit if you don't want to hear spoilers.
Our Verdict: An okay adventure film that has too many flaws to make it a classic. Better than expected.
Watch the trailer here http://trailers.apple.com/trailers/lions_gate/thehungergames/
Lists of Five
This week our Lists of Five: Five Hunting Movies. Inspired by The Hunger Games, what other movies about hunting can we come up with?
Just a reminder, because we never like to just make things easy on ourselves, our lists are not necessarily top five lists, they are more or a less a list of film recommendations within the theme of the list.
The Rest…
Join us on our Facebook Fan Page: facebook.com/GeekActually or follow Geek Actually on Twitter @geekactually
Make sure you check out our new range of Geek Actually swag at cafepress.com.au/geekactually
The Reel Junkies podcast can be found at weekendronin.com
Check out Brad and Charlie at ReboundRadio.com home of the podcasts "Good Day Sir!" and "Movie Match Up"
Find out more about Josh's other stuff by visiting HipHopNetOnline.com or listen to his other show "DLC Live" go to RawDLC.com or follow him on Twitter @DoGM3At
Find more by Richard Gray by visiting theReelBits.com or follow him on Twitter @DVDbits
Check out Nicholas McVay's awesome Lego animated films at YouTube.com/nickymcvay
We opened the show with a clip from "We Bought a Zoo".
We are closing the show with a track called "Come Away to the Water" by Maroon 5 from the album "The Hunger Games – Songs From District 12 and Beyond".
Go see more movies, you don't see enough movies and all of life's questions are answered in the movies.
Shameless Plug Time – Make sure you check out our new comic book podcast "Behind the Panels" hosted by David McVay & Richard Gray. Every week we bring you news from the world of comic books and comic book related movies and TV. We also go into deep analysis on our favourite comic books in our Book Club style Comic Pick of the Week. Find it here on Geek Actually or subscribe for free on iTunes. Also like the Facebook page here.