Podcast: Play in new window | Download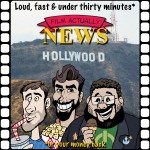 Hosts: David McVay, Josh Philpott & Richard Gray
Welcome to the brand new Film Actually News for April 1st (no joke!), 2012. This week Ridley Scott talks about Prometheus' rating, a Lone Wolf and Cub remake is on the way, Clerks 3 on stage, Anchorman 2 announced, the list directors for Captain America 2 gets shorter and James Cameron goes deep. All this and much, much more! We had a few problems with Richard's connection this week, so apologies about the audio quality on his connection.
What used to be a boring, stuffy film section of the Film Actually podcast has been spun off into it's own, we hope, more entertaining show. We don't make the news, we just have fun with it. Film Actually News – Loud, Fast and Under Thirty Minutes… or your money back.
If you are an iTunes user, please leave a review. Your comments help us improve the show.
This show carries an explicit tag due to coarse language.
Listen or download it here or subscribe to it on iTunes
In case you want the full stories, here are your show links follow:
Ridley Scott talks about Prometheus' rating.
http://www.empireonline.com/news/story.asp?NID=33510
Twins sequel, Triplets, in the works for Arnold, DeVito… and Eddie Murphy!
http://www.hollywoodreporter.com/heat-vision/twins-triplets-arnold-schwarzenegger-danny-devito-eddie-murphy-306026
Mother's Day remake.
http://www.filmschoolrejects.com/news/trailer-for-mothers-day-remake-kerbl.php
Justin Lin may make a new version of Lone Wolf and Cub!
http://www.deadline.com/2012/03/kamala-flms-acquires-lone-wolf-and-cub-with-fast-fives-justin-lin-attached/
Ron Burgundy (Will Ferrell) Announces Anchorman Sequel on Conan
http://www.thereelbits.com/2012/03/29/ron-burgundy-announces-anchorman-sequel-on-conan/
Reboots aplenty!
http://www.slashfilm.com/goofy-horror-wwe-wrestler-hornswoggle-leprechaun-origins-sequel-childs-play-development-reboot/
Clerks 3 as a play? Kevin Smith says he wants to do it.
http://www.youtube.com/watch?v=iOzuVgMl0os&feature=player_embedded
Directors in the running to helm Captain America sequel
http://www.vulture.com/2012/03/captain-america-sequel-director-community-russo-brothers.html
House at the End of the Street trailer.
http://www.filmschoolrejects.com/news/jennifer-lawrences-cleavage-runs-in-fear-of-the-house-at-the-end-of-the-street-trailer.php
James Cameron goes deep… real deep.
http://news.nationalgeographic.com/news/2012/03/120325-james-cameron-mariana-trench-challenger-deepest-returns-science-sub/
Only in Hollywood, Human Centipede 3 director sues his own star.
http://www.slashfilm.com/dieter-laser-skips-human-centipede-3-final-sequence/
The Rest…
Join us on our Facebook Fan Page: facebook.com/GeekActually or follow Geek Actually on Twitter @geekactually
Make sure you check out our new range of Geek Actually swag at cafepress.com.au/geekactually
Find out more about Josh's other stuff by visiting HipHopNetOnline.com or listen to his other show "DLC Live" go to RawDLC.com or follow him on Twitter @DoGM3At
Find more by Richard Gray by visiting theReelBits.com or follow him on Twitter @DVDbits
Shameless Plug Time – Make sure you check out our new comic book podcast "Behind the Panels" hosted by David McVay & Richard Gray. Every week we bring you news from the world of comic books and comic book related movies and TV. We also go into deep analysis on our favourite comic books in our Book Club style Comic Pick of the Week. Find it here on Geek Actually or subscribe for free on iTunes. Also like the Facebook page here.