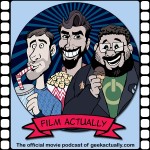 Hosts: David McVay & Josh Philpott
This week David & Josh do something a little different, with The Avengers about to hit cinemas, they decide to take a trip down memory lane and discuss the five films (Iron Man, The Incredible Hulk, Iron Man 2, Thor, Captain America: The First Avenger) leading up to the ultimate team up film. The usual format will return next week for a full review of Joss Whedon's The Avengers. However, we couldn't do a Film Actually without a brand new Lists of Five – Five Skippable Superhero Movies. Film Actually is the official movie podcast of geekactually.com.
The news section is now officially it's own show called Film Actually News. Look for it on the feed because it is loud, fast and under thirty minutes… or your money back.
If you are an iTunes user, please leave a review. Your comments help us improve the show.
This show carries an explicit tag due to infrequent coarse language.
Listen or download it here or subscribe to it on iTunes
Podcast: Play in new window | Download
Lists of Five
This week our Lists of Five: Five Skippable Superhero Movies. With all the hype around The Avengers and superhero movies in general, it is easy to forget that superhero movies aren't always that great, here are five examples of superhero movies that you can just skip. We have included tele movies in the lists this week.
Just a reminder, because we never like to just make things easy on ourselves, our lists are not necessarily top five lists, they are more or a less a list of film recommendations within the theme of the list.
The Rest…
Join us on our Facebook Fan Page: facebook.com/GeekActually or follow Geek Actually on Twitter @geekactually
The Reel Junkies podcast can be found at weekendronin.com
Check out Brad and Charlie at ReboundRadio.com home of the podcasts "Good Day Sir!" and "Movie Match Up"
Find out more about Josh's other stuff by visiting HipHopNetOnline.com or listen to his other show "DLC Live" go to RawDLC.com or follow him on Twitter @DoGM3At
Find more by Richard Gray by visiting theReelBits.com or follow him on Twitter @DVDbits
Check out Nicholas McVay's awesome Lego animated films at YouTube.com/nickymcvay
We opened the show with a clip from "Super".
We are closing the show with a track from the score to "Thor" by Patrick Doyle.
Go see more movies, you don't see enough movies and all of life's questions are answered in the movies.
Shameless Plug Time – Make sure you check out our new comic book podcast "Behind the Panels" hosted by David McVay & Richard Gray. Every week we bring you news from the world of comic books and comic book related movies and TV. We also go into deep analysis on our favourite comic books in our Book Club style Comic Pick of the Week. Find it here on Geek Actually or subscribe for free on iTunes. Also like the Facebook page here.