Podcast: Play in new window | Download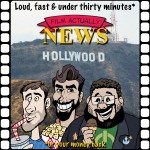 Hosts: David McVay & Josh Philpott
Welcome to the brand new Film Actually News for April 22nd, 2012. This week Raging Bull 2 (yes, you read that right), Lobo, Francis Lawrence directing The Hunger Games sequel, Guy Pearce joins Iron Man 3, video games Need for Speed and Call of Duty may be coming to cinema near you and a prequel to Maniac Cop is on the way. All this and much, much more!
What used to be a boring, stuffy film section of the Film Actually podcast has been spun off into it's own, we hope, more entertaining show. We don't make the news, we just have fun with it. Film Actually News – Loud, Fast and Under Thirty Minutes… or your money back.
If you are an iTunes user, please leave a review. Your comments help us improve the show.
This show carries an explicit tag due to coarse language.
Listen or download it here or subscribe to it on iTunes
In case you want the full stories, here are your show links:
De Niro has lost the plot, another sequel that should never be – Raging Bull 2!
http://www.thewrap.com/movies/column-post/robert-de-niro-working-script-midnight-run-sequel-37147
Lobo will be rewritten and directed by Cats & Dogs: The Revenge of Kitty Galore helmer.
http://www.slashfilm.com/journey-center-earth-3d-director-lobo-warner-bros/
With Gary Ross out, it looks like Francis "Constantine" Lawrence may direct The Hunger Games sequel.
http://www.hollywoodreporter.com/heat-vision/hunger-games-catching-fire-director-314244
Prometheus star Guy Pearce joins Iron Man 3.
http://www.slashfilm.com/prometheus-star-guy-pearce-joins-iron-man-3/
Time to try it again, video game Need for Speed to be made into a film.
http://www.deadline.com/2012/04/dreamworks-back-in-business-with-need-for-speed-deal/
Abraham Lincoln: Vampire Hunter will be a hard-R
http://www.filmschoolrejects.com/news/abraham-lincoln-vampire-hunter-rating-jgiro.php
Maniac Cop is back! This time Nicholas Winding Refn is producing!
http://www.slashfilm.com/nicolas-winding-refn-producing-maniac-cop-prequelremake/
Call Of Duty film on its way?
http://www.empireonline.com/news/story.asp?NID=24757
What was the additional stuff shot for The Avengers? We may never know.
http://www.bleedingcool.com/2012/04/19/avengers-additional-shooting-not-scene-but-one-little-change
And because it is The Avengers week, here is one more clip from the new film.
http://www.youtube.com/watch?v=_VRLqXwDhVo&feature=player_embedded
The Rest…
Join us on our Facebook Fan Page: facebook.com/GeekActually or follow Geek Actually on Twitter @geekactually
Make sure you check out our new range of Geek Actually swag at cafepress.com.au/geekactually
Find out more about Josh's other stuff by visiting HipHopNetOnline.com or listen to his other show "DLC Live" go to RawDLC.com or follow him on Twitter @DoGM3At
Find more by Richard Gray by visiting theReelBits.com or follow him on Twitter @DVDbits
Shameless Plug Time – Make sure you check out our new comic book podcast "Behind the Panels" hosted by David McVay & Richard Gray. Every week we bring you news from the world of comic books and comic book related movies and TV. We also go into deep analysis on our favourite comic books in our Book Club style Comic Pick of the Week. Find it here on Geek Actually or subscribe for free on iTunes. Also like the Facebook page here.