Film Actually Co-Host Josh Philpott recently got invited to an exclusive screening of some footage from the upcoming G.I. Joe: Retailiation. Here are his thoughts on that footage and as a bonus you can see the brand new trailer and the new character posters for the film. 
When you see a lot of films like we do as reviewers, it's easy to become jaded or elitist. Big budget 90's style super-action can seem lame and antiquated when we start breaking them down to the Nth degree. The trick to looking at a hollywood action film is to weigh it against the enjoyment you have of it. The first G.I. Joe film was a lot of fun, it was good popcorn junk-food cinema and although it's riddled with problems you find yourself dragged along for the ride. The film made some money and a sequel was set into motion. The idea? More of the same but bigger. More explosions, more gadgets, more death defying stunts and from what we were shown, G.I. Joe: Retaliation offers just that and then some.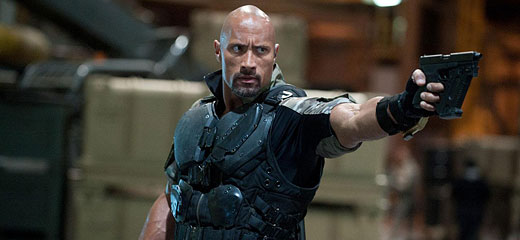 The plot has its stakes raised too, the Joes face a threat from inside their own government as Cobra spy Zartan is freed and a plan begins to irradiate them and take over America (and by proxy the rest of the free world). The plan almost succeeds with all but a small team of Joes surviving. The team must now pool resources and take on impossible odds to save the world and take out the murderous Cobra forces.
Although the story is far from Shakespeare, it is all the depth you need with a film like this.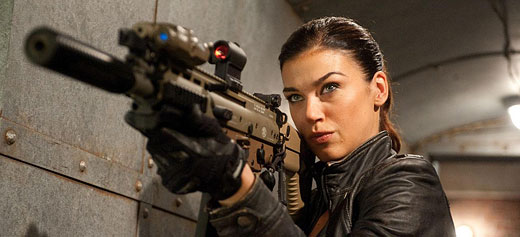 Tech is still a heavy component, the footage showed off explosive remote controlled fireflies and a cool looking bike that doubles as an RPG, no doubt there is more of this kind of thing in store. The look and feel show off the best of our new HD world. G.I. Joe: Retaliation has a clean and crisp look with epic CG and enough testosterone to require a warning label.
The cast budget has been well spent, and like everything else in this film, the list is huge. We have  Channing Tatum returning, as well as Ray Park, and few others. Then we add RZA, Walter Goggins, Bruce "I'm old but I still kick ass" Willis, Ray Stevenson, Adrianne Palicki AND Dwayne "The Rock"Johnson. The list goes on offering almost more talent than The Expendables. Pure over-the-top awesome.
Overall the film looks promising, there is enough super cool action and star power to make this a possible action cult classic. With director Jon M Chu (Step Up 3D) at the helm there is no doubt there will be plenty of eye candy. The question only remains, will there be enough substance to get it over the line?
Josh Philpott
G.I. Joe: Retaliation opens across Australia August 2nd 2012. Thanks to Paramount Australia and Way To Blue for making this preview possible. Watch the brand new trailer below.