Podcast: Play in new window | Download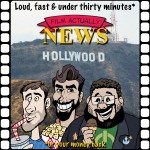 Hosts: David McVay & Josh Philpott
Welcome to the brand new Film Actually News for April 29th, 2012. This week news on Machete Kills, the Carrie remake and Top Gun 2, plus Star Wars Land, Lars Von Trier does smut… again, Django Unchained images surface and a remake of Poltergeist by Sam Raimi? All this and much, much more!
What used to be a boring, stuffy film section of the Film Actually podcast has been spun off into it's own, we hope, more entertaining show. We don't make the news, we just have fun with it. Film Actually News – Loud, Fast and Under Thirty Minutes… or your money back.
If you are an iTunes user, please leave a review. Your comments help us improve the show.
This show carries an explicit tag due to coarse language.
Listen or download it here or subscribe to it on iTunes
In case you want the full stories, here are your show links:
Rodriguez wants Mel Gibson for Machete Kills
http://www.deadline.com/2012/04/mel-gibson-to-join-machete-kills-mayhem/
http://www.slashfilm.com/mel-gibson-machete-kills/
Julianne Moore may be the fundamentalist mom in Carrie remake.
http://www.slashfilm.com/julianne-moore-domineering-fundamentalist-mom-carrie/
And the sell out is complete – Star Wars Land comes to Disneyland Paris.
http://disneyandmore.blogspot.com.au/2012/04/star-wars-land-coming-to-disneyland.html
Doug 'Pinhead' Bradley in a new Wrong Turn sequel.
http://www.empireonline.com/news/story.asp?NID=33790
Not only is Top Gun 2 going ahead, Tony Scott is back in the director's chair!
http://www.hollywoodreporter.com/news/top-gun-tom-cruise-adam-goodman-transformers-shia-labeouf-315801
New Django Unchained pics.
http://www.empireonline.com/news/story.asp?NID=33776
Remake Poltergeist? Why not call Sam Raimi in.
http://www.movies.com/movie-news/carrie-remake-found-footage/7676
Lars Von Trier is at it again, this time his Nymphomaniac will be split into two films and there will be a softcore and hardcore version. Can the man never just make a movie?
http://www.slashfilm.com/lars-von-triers-nymphomaniac-charting-womans-sexual-life-span-movies/
The Wolverine will shoot in Japan and Australia.
http://www.slashfilm.com/the-wolverine-location-shoot-place-japan/
The Rest…
Join us on our Facebook Fan Page: facebook.com/GeekActually or follow Geek Actually on Twitter @geekactually
Make sure you check out our new range of Geek Actually swag at cafepress.com.au/geekactually
Find out more about Josh's other stuff by visiting HipHopNetOnline.com or listen to his other show "DLC Live" go to RawDLC.com or follow him on Twitter @DoGM3At
Find more by Richard Gray by visiting theReelBits.com or follow him on Twitter @DVDbits
Shameless Plug Time – Make sure you check out our new comic book podcast "Behind the Panels" hosted by David McVay & Richard Gray. Every week we bring you news from the world of comic books and comic book related movies and TV. We also go into deep analysis on our favourite comic books in our Book Club style Comic Pick of the Week. Find it here on Geek Actually or subscribe for free on iTunes. Also like the Facebook page here.