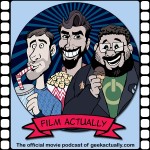 This week David & Josh are again joined by the host/creator of The Uncanny Valley, Alexis Ayala for a review of the new Marvel Studios film "The Avengers". Plus What We've Been Watching, Josh's Bargain Basement and a brand new Lists of Five – Five Butt Kicking Teams. Film Actually is the official movie podcast of geekactually.com.
Stay listening at the end for a quick review of The Avengers by Nicholas 'The Little Geek' McVay.
Hosts: David McVay, Josh Philpott, Alexis Ayala & Nicholas McVay
The news section is now officially it's own show called Film Actually News. Look for it on the feed because it is loud, fast and under thirty minutes… or your money back.
If you are an iTunes user, please leave a review. Your comments help us improve the show.
This show carries an explicit tag due to infrequent coarse language.
Listen or download it here or subscribe to it on iTunes
Podcast: Play in new window | Download
Your show links follow:
What We've Been Watching:
A collection of other things we've been watching during the week. David caught up with Steven Soderbergh's latest film Haywire, Josh continued with the original A Nightmare on Elm Street series – this week A Nightmare on Elm Street 3: Dream Warriors and Alexis has been watching The Lorax and the documentary Captains. Plus Josh's Bargain Basement: Hellraiser: Revelations.
Feature Film Review
'The Avengers' written and directed by Joss Whedon based on a story by Zak Penn and Joss Whedon in turn based on the Marvel Comics book created by Stan Lee & Jack Kirby. It stars Robert Downey Jr., Chris Evans, Chris Hemsworth, Mark Ruffalo, Scarlett Johansson, Jeremy Renner, Tom Hiddleston, Samuel L. Jackson, Stellan Skarsgård, Cobie Smulders and Clark Gregg.
Nick Fury of S.H.I.E.L.D. brings together a team of super humans to form The Avengers to help save the Earth from Loki and his army. Source: IMDB
Spoiler Section: 00:42:30 – 00:51:44 – Fast forward this bit if you don't want to hear spoilers.
Our Verdict: Absolutely must see. This is what comic book superhero films are all about.
Watch the trailer here http://trailers.apple.com/trailers/marvel/avengers/
Lists of Five
This week our Lists of Five: Five Butt Kicking Teams. What's better than a butt kicking star in your film? A team of butt kicking people! Here are five movies with butt kicking teams.
Just a reminder, because we never like to just make things easy on ourselves, our lists are not necessarily top five lists, they are more or a less a list of film recommendations within the theme of the list.
The Rest…