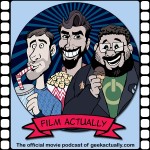 Hosts: David McVay & Josh Philpott
This week David & Josh split up for a pair of reviews, first up David reviews "The Five-Year Engagement" and then Josh reviews "Get The Gringo". Plus What We've Been Watching, Josh's Bargain Basement and a brand new Lists of Five – Five Great Parodies or Satires. Film Actually is the official movie podcast of geekactually.com.
The news section is now officially it's own show called Film Actually News. Look for it on the feed because it is loud, fast and under thirty minutes… or your money back.
If you are an iTunes user, please leave a review. Your comments help us improve the show.
This show carries an explicit tag due to infrequent coarse language.
Listen or download it here or subscribe to it on iTunes
Podcast: Play in new window | Download
Your show links follow:
What We've Been Watching:
A collection of other things we've been watching during the week. David caught up with Iron Sky and Sleeping Beauty, Josh watched Cronos. Plus Josh's Bargain Basement: The Rite.
Feature Film Review 1
'The Five-Year Engagement' directed by Nicholas Stoller and written by Jason Segel and Nicholas Stoller. It stars Jason Segel, Emily Blunt, Chris Pratt, Alison Brie, Jackie Weaver, David Paymer and Rhys Ifans.
One year after meeting, Tom proposes to his girlfriend, Violet, but unexpected events keep tripping them up as they look to walk down the aisle together. Source: IMDB
David's Verdict: A fun date film that isn't as strong as Segel/Stoller's previous film Forgetting Sarah Marshall but has enough in it to please a mass audience.
Watch the trailer here http://trailers.apple.com/trailers/universal/thefiveyearengagement/
Feature Film Review 2
'Get The Gringo' Directed by Adrian Grunberg and written by Mel Gibson, Adrian Grunberg and Stacy Perskie. It stars Mel Gibson, Peter Stormare, Dean Norris and Bob Gunton.
A career criminal (Gibson) nabbed by Mexican authorities is placed in a tough prison where he learns to survive with the help of a 9-year-old boy. Source: IMDB
Josh's Verdict: An unexpected pleasure and not what you expect. Well worth watching crazy Mel at work.
Lists of Five
This week our Lists of Five: Five Great Parodies or Satires. Let's subvert or just plain make fun of stuff.
Just a reminder, because we never like to just make things easy on ourselves, our lists are not necessarily top five lists, they are more or a less a list of film recommendations within the theme of the list.
The Rest…
Join us on our Facebook Fan Page: facebook.com/GeekActually or follow Geek Actually on Twitter @geekactually
The Reel Junkies podcast can be found at weekendronin.com
Check out Brad and Charlie at ReboundRadio.com home of the podcasts "Good Day Sir!" and "Movie Match Up"
Find out more about Josh's other stuff by visiting HipHopNetOnline.com or listen to his other show "DLC Live" go to RawDLC.com or follow him on Twitter @DoGM3At
Find more by Richard Gray by visiting theReelBits.com or follow him on Twitter @DVDbits
We opened the show with a clip from "The Princess Bride".
We close the show with a track from the score to "Get The Gringo".
Go see more movies, you don't see enough movies and all of life's questions are answered in the movies.