Podcast: Play in new window | Download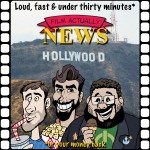 Hosts: David McVay & Josh Philpott
Welcome to the brand new Film Actually News for May 7th, 2012. This week: The Avengers destroys the competition at the box office, The Evil Dead remake is having legal issues but starts filming anyway, Mark Ruffalo talks about the Hulk's future, Daredevil reboot back in the news, a third The Dark Knight Rises trailer is unleashed and we now know what the extra scene for The Avengers is. All this and much, much more!
What used to be a boring, stuffy film section of the Film Actually podcast has been spun off into it's own, we hope, more entertaining show. We don't make the news, we just have fun with it. Film Actually News – Loud, Fast and Under Thirty Minutes… or your money back.
If you are an iTunes user, please leave a review. Your comments help us improve the show.
This show carries an explicit tag due to coarse language.
Listen or download it here or subscribe to it on iTunes
In case you want the full stories, here are your show links:
Daredevil reboot still in the works.
http://www.deadline.com/2012/04/david-james-kelly-rewriting-daredevil-reboot-for-david-slade/
The Avengers Breaks All-Time Domestic Box Office Opening Weekend Gross
http://www.slashfilm.com/the-avengers-breaks-alltime-domestic-box-office-opening-weekend-gross/
Mark Ruffalo talks about The Hulk's future.
http://collider.com/mark-ruffalo-the-avengers-hulk-movie-interview/160722/
Pesky trademark law might cause trouble for The Evil Dead remake.
http://www.hollywoodreporter.com/thr-esq/sam-raimi-sues-rights-evil-dead-sequel-320375
Oh, and by the way, Sam Raimi's Evil Dead has already started filming in New Zealand.
The Cosmopolis trailer is out and amazing.
http://www.youtube.com/watch?v=q8fAtVDeK3Y
Jody "Observe and Report" Hill working on a new film that might or might not be a new Dukes of Hazzard…. huh?!?!
http://www.hollywoodreporter.com/heat-vision/eastbound-down-jody-hill-direct-dukes-hazzard-319610
After The Avengers, does the new The Dark Knight Rises trailer still do it for us?
http://www.youtube.com/watch?v=g8evyE9TuYk&feature=player_embedded
And finally, what is the extra scene in The Avengers *SPOILERS*
http://www.unleashthefanboy.com/movies/photo-of-second-avengers-after-credits-scene/9317
The Rest…
Join us on our Facebook Fan Page: facebook.com/GeekActually or follow Geek Actually on Twitter @geekactually
Make sure you check out our new range of Geek Actually swag at cafepress.com.au/geekactually
Find out more about Josh's other stuff by visiting HipHopNetOnline.com or listen to his other show "DLC Live" go to RawDLC.com or follow him on Twitter @DoGM3At
Find more by Richard Gray by visiting theReelBits.com or follow him on Twitter @DVDbits
Shameless Plug Time – Make sure you check out our new comic book podcast "Behind the Panels" hosted by David McVay & Richard Gray. Every week we bring you news from the world of comic books and comic book related movies and TV. We also go into deep analysis on our favourite comic books in our Book Club style Comic Pick of the Week. Find it here on Geek Actually or subscribe for free on iTunes. Also like the Facebook page here.