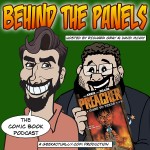 Hosted By: Richard Gray & David McVay
In this issue, Richard is back! In this issue The New New 52, Marvel's Crossover events and the Court of Owls. Then its DC annuals, Marvel cosmetics, Batman selling out and The First X-Men? ALSO, The Avengers makes some money, Iron Man 3 casting and your weekly dose of Arrow.  PLUS our kick ass pick of the week: Preacher: Gone to Texas by Garth Ennis and Steve Dillon.
Our next reading assignment: The Invincible Iron Man: Extremis (vol 4. Issues 1 – 6) by Warrewn Ellis and Adi Granov.
Behind the Panels is continual work in progress, help us craft this show (via email and feedback) into the finest comic book podcast on the market. Make sure you subscribe to Behind the Panels on the link below.
Podcast: Play in new window | Download
Your Show Notes:
The Vintage Clip of the Week this week is:
Namor The Submariner
What We've Been Reading This Week – 21/3/2012 Releases
Quick summary of Spielgelman and Crumb exhibits?
DC FCBD The New 52 #1 – The Trinity War is Coming
DC Second Wave Titles?
Marvel Crossover Event – DD/Punisher/Avenging Spider-man
DC Event – Court of Owls
The Incredible Hulk
Comic News
DC Announces Annuals for "Superman", "Detective Comics" and more!
http://www.comicbookresources.com/?page=article&id=38633
Benefit Cosmetics and Marvel Unveil "Beauty Inspired" Comic Book Action Hero
http://www.thereelbits.com/2012/05/10/benefit-cosmetics-and-marvel-unveil-beauty-inspired-comic-book-action-hero/
Original copy of Batman #1 sells for $850,000
http://www.comicsalliance.com/2012/05/11/original-batman-1-auction-850000-dollars/
The First X-Men
http://www.thereelbits.com/2012/05/12/who-are-the-first-x-men-find-out-from-marvel-this-august/
Movie News
The Avengers earns lots of money
http://boxofficemojo.com/news/?id=3438&p=.htm
John Romita Jr. Says Kick Ass 2 Films This Summer For Release Next May, Hopes To Direct Animated Segment
http://www.bleedingcool.com/2012/05/06/john-romita-jr-says-kick-ass-films-summer-for-release-next-may-hopes-direct-animated-segment/
Jessica Chastain will not appear in Iron Man 3
http://www.thereelbits.com/2012/05/08/jessica-chastain-passes-on-iron-man-3/www.facebook.com/pages/Jessica-Chastain/130560923681640
but…Rebecca Hall might have grabbed it
http://www.deadline.com/2012/05/rebecca-hall-up-for-%E2%80%98iron-man-3%E2%80%99-role-jessica-chastain-declined/
Arrow picked up by CW
http://collider.com/arrow-carrie-diaries-season-one/165725/
Have you got something to say? We want to hear from you, send email to comics@geekactually.com or drop us a voicemail at 02 8011 3167 (Skype ID: geek actually) and we'll play it on the show.
If you are an iTunes user, subscribe for free here and please leave us feedback. The next two or three issues will also come out on the Geek Actually and Film Actually feeds to get things started.
Make sure you check out our other fine podcasts Film Actually and Film Actually News for the latest in cinema reviews and news.
Join us on our new Facebook Fan Page, follow Geek Actually on Twitter @geekactually and follow David on Twitter @davidmcvay Find more by Richard Gray by visiting theReelBits.com or follow him on Twitter @DVDbits
Make sure you check out our new range of Geek Actually swag at cafepress.com.au/geekactually
The music used for this episode is "Paris, Texas" by Ry Cooder to give us a sleazy southern flavour.