Podcast: Play in new window | Download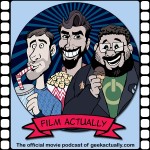 This week David & Richard take a look at the last film in Christopher Nolan's Batman trilogy The Dark Knight Rises. Plus a look at What We've Been Watching and a brand new Lists of Five – Our Five Favourite Movie Explosions. Film Actually is the official movie podcast of geekactually.com.
Hosts: David McVay & Richard Gray
The news section is now officially it's own show called Film Actually News. Look for it on the feed because it is loud, fast and under thirty minutes… or your money back.
If you are an iTunes user, please leave a review. Your comments help us improve the show.
This show carries an explicit tag due to infrequent coarse language.
Listen or download it here or subscribe to it on iTunes
Your Show Notes Follow:
What We've Been Watching:
A collection of other things we've been watching during the week. Richard watched Katy Perry: Part of Me and Comic-Con Episode IV: A Fan's Hope. David watched American Reunion and One for the Money.
Feature Film Review
'The Dark Knight Rises' directed by Christopher Nolan. It is written by Jonathan Nolan & Christopher Nolan and is based on a story by Christopher Nolan & David S. Goyer in turn based on the DC Comics character created by Bob Kane. It stars Christian Bale, Tom Hardy, Anne Hathaway, Michael Caine, Gary Oldman, Morgan Freeman, Joseph Gordon-Levitt, Marion Cotillard, Matthew Modine, Ben Mendelsohn, Burn Gorman and Nestor Carbonell.
Eight years on, a new terrorist leader, Bane, overwhelms Gotham's finest, and the Dark Knight resurfaces to protect a city that has branded him an enemy. Source: IMDB
Our Verdict: A fitting and very entertaining conclusion to Christopher Nolan's trilogy. The film does have issues though and really requires the first two films to make sense. For fans of the series, a must see. For the first timers, go watch Batman Begins.
SPOILER ZONE: 42:40 to 56:25 – Skip this section if you don't want spoilers.
Watch the trailer here: http://trailers.apple.com/trailers/wb/thedarkknightrises/
 Lists of Five
This week our Lists of Five: Our Five Favourite Movie Explosions. We all like things that go bang, right?
Just a reminder, because we never like to just make things easy on ourselves, our lists are not necessarily top five lists, they are more or a less a list of film recommendations within the theme of the list.
The Rest…
Join us on our Facebook Fan Page: facebook.com/GeekActually or follow Geek Actually on Twitter @geekactually
The Reel Junkies podcast can be found at weekendronin.com
Find out more about Josh's other stuff by visiting HipHopNetOnline.com or listen to his other show "DLC Live" go to RawDLC.com or follow him on Twitter @DoGM3At
Find more by Richard Gray by visiting theReelBits.com or follow him on Twitter @DVDbits
We opened the show with a clip from "The Dark Knight".
We close the show with a track from the original score for "Batman Begins" by Hans Zimmer & James Newton Howard.
Go see more movies, you don't see enough movies and all of life's questions are answered in the movies.