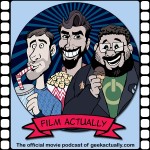 This week, the Film Actually podcast heads into hiatus for a couple of months but first we review the sequel "The Expendables 2". We also look at What We've Been Watching and deliver a brand new Lists of Five – Five Ensemble Films. Film Actually is the official movie podcast of geekactually.com.
Hosts: David McVay & Josh Philpott
If you are an iTunes user, please leave a review. Your comments help us improve the show.
This show carries an explicit tag due to infrequent coarse language.
Listen or download it here or subscribe to it on iTunes
Podcast: Play in new window | Download
What We've Been Watching
A collection of other things we've been watching this week.
Feature Film Review
'The Expendables 2' directed by Simon West and written by Sylvester Stallone and Richard Wenk. It stars Sylvester Stallone, Jason Statham, Jean-Claude Van Damme, Jet Li, Dolph Lundgren, Chuck Norris, Bruce Willis, Arnold Schwarzenegger, Terry Crews, Randy Couture, Liam Hemsworth, Nan Yu and Charisma Carpenter.
Mr. Church reunites the Expendables for what should be an easy paycheck, but when one of their men is murdered on the job, their quest for revenge puts them deep in enemy territory and up against an unexpected threat. Source: IMDB
Watch the trailer here: http://trailers.apple.com/trailers/lions_gate/theexpendables2/
Lists of Five
This week our Lists of Five: Five Ensemble Films.
Just a reminder, because we never like to just make things easy on ourselves, our lists are not necessarily top five lists, they are more or a less a list of film recommendations within the theme of the list.
The Rest…
Join us on our Facebook Fan Page: facebook.com/GeekActually or follow Geek Actually on Twitter @geekactually
The Reel Junkies podcast can be found at weekendronin.com
Find out more about Josh's other stuff by visiting HipHopNetOnline.com or listen to his other show "DLC Live" go to RawDLC.com or follow him on Twitter @DoGM3At
Find more by Richard Gray by visiting theReelBits.com or follow him on Twitter @DVDbits
We are closing the show with "The Expendables Return" from Brian Tyler's score to "The Expendables 2".
The opening clip is from the ensemble film "American Reunion".
Go see more movies, you don't see enough movies and all of life's questions are answered in the movies.