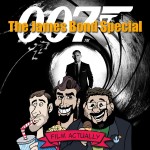 The boys are back! David, Josh and Richard have returned to the world of film actually for an extended talk about James Bond and a review of SkyFall. Along the way they also discuss the Lucasfilm/Disney merger and Kevin Smith's future film plans… Clerks 3 anyone? We also have a quick talk about what's coming up next year in geek cinema.
Podcast: Play in new window | Download
Feature Review
Skyfall is directed by Sam Mendes and written by  Neal Purvis, Robert Wade and John Logan based on the characters by Ian Fleming. It stars Daniel Craig, Judi Dench, Javier Bardem, Ralph Fiennes, Naomie Harris, Bérénice Marlohe, Ben Wishaw and Albert Finney.
Bond's loyalty to M is tested as her past comes back to haunt her, bringing MI6 under attack.
Watch the trailer here: http://trailers.apple.com/trailers/sony_pictures/skyfall/

BEWARE: Spoiler Zone between 00:43:17 – 00:49:54. Avoid this section if you don't want to know details about the film.
We also talk about the trailers for a couple of upcoming sci-fi films:
Oblivion
http://trailers.apple.com/trailers/universal/oblivion/
Pacific Rim
http://trailers.apple.com/trailers/wb/pacificrim/
This episode carries an explicit tag due to infrequent coarse language.
Listen or download it here or subscribe to it on iTunes
Send feedback for this show to feedback@geekactually.com or leave us a voice mail message to play on the show at (Sydney number) 02 8011 3167 or Skype ID: geekactually (you can also send us an mp3 file if you'd prefer). If you are an iTunes user, please leave a review. Your comments (good or bad) help us improve the show.
Join us on our Facebook Fan Page: facebook.com/GeekActually
Follow David on Twitter: twitter.com/davidmcvay
Get your Geek Actually swag at cafepress.com.au/geekactually
Music for this episode is Adele's song Skyfall from Skyfall