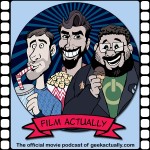 This week, Film Actually returns and says goodbye as we record our 100th and final show of this series. Film Actually is being replaced by The Geek Movie Club, starting mid  January. This week, however, we review The Hobbit: An Unexpected Journey, visit Josh's Bargain Basement and deliver the last Lists of Five – The Five Films we Enjoyed The Most in 2012. Film Actually is the official movie podcast of geekactually.com.
Hosts: David McVay, Josh Philpott & Richard Gray
If you are an iTunes user, please leave a review. Your comments help us improve the show.
This show carries an explicit tag due to infrequent coarse language.
Listen or download it here or subscribe to it on iTunes
Podcast: Play in new window | Download
Feature Film Review
'The Hobbit: An Unexpected Journey' directed by Peter Jackson and written by Fran Walsh, Philippa Boyens Peter Jackson & and Guillermo del Toro based on the book by J.R.R. Tolkien. It stars Martin Freeman, Ian McKellen, Richard Armitage, Elijah Wood, Hugo Weaving, Kate Blanchett, Christopher Lee, Andy Serkis, Barry Humphries, Sylvester McCoy and the Dwarves: Ken Stott, Graham McTavish, William Kircher, James Nesbitt, Stephen Hunter, Dean O'Gorman, Aidan Turner, John Callen, Peter Hambleton, Jed Brophy, Mark Hadlow and Adam Brown.
A younger and more reluctant Hobbit, Bilbo Baggins, sets out on a "unexpected journey" to the Lonely Mountain with a spirited group of Dwarves to reclaim their stolen mountain home from a dragon named Smaug. Source: IMDB
Watch the trailer here: http://trailers.apple.com/trailers/wb/thehobbit/
Spoiler Zone: 1:01:41 to 1:10:33 – Skip this section if you haven't see The Hobbit yet.
Lists of Five
This week our Lists of Five: The Five Films we Enjoyed The Most in 2012. Forget the best films of 2012, what did we actually enjoy the most.
Just a reminder, because we never like to just make things easy on ourselves, our lists are not necessarily top five lists, they are more or a less a list of film recommendations within the theme of the list.
The Rest…
Join us on our Facebook Fan Page: facebook.com/GeekActually or follow Geek Actually on Twitter @geekactually
The Reel Junkies podcast can be found at weekendronin.com
Find out more about Josh's other stuff by visiting HipHopNetOnline.com or listen to his other show "DLC Live" go to RawDLC.com or follow him on Twitter @DoGM3At
Find more by Richard Gray by visiting theReelBits.com or follow him on Twitter @DVDbits
We are closing the show with part of Howard Shore's score for "The Hobbit: The Unexpected Journey".
The opening clip is from "The Lord of the Rings: The Fellowship of the Ring".
Go see more movies, you don't see enough movies and all of life's questions are answered in the movies.