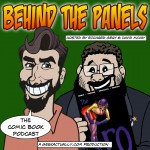 In this issue, Bendis teases Spider-men 2 and Scully and Mulder get empanelled. ALSO Sin City gets its dame to kill for, Ridley Scott minds the MGMT, and the Inhumans and Superman both get animated. PLUS our kick-ass pick of the week: The Pro by Gath Ennis, Amanda Conner and Jimmy Palmiotti.
Our next reading assignment: The Underwater Welder by Jeff Lemire (Top Shelf).
Your Hosts: Richard Gray & David McVay
Podcast: Play in new window | Download
Help us craft this show (via email and feedback) into the finest comic book podcast on the market. Make sure you subscribe to Behind the Panels on the link below.
Vintage Clip of the Week
Wonder Woman – Unaired Pilot (1974)
Comic News
Bendis teases Spider-Men 2
http://www.comicbookresources.com/?page=article&id=43452
IDW announces X-Files comics
http://www.comicbookresources.com/?page=article&id=43427
TRAILER: Injustice: Gods Among Us
http://www.comingsoon.net/news/gamenews.php?id=99540
Movie News
Eva Green is Ava Lord in Sin City: A Dame to Kill For
http://www.comingsoon.net/news/movienews.php?id=99494
Ridley Scott to produce Mind MGMT film
http://www.hollywoodreporter.com/heat-vision/fox-picks-up-comic-book-416602
Marvel Knights Animation Presents Inhumans on DVD 4/23
http://marvel.com/news/story/20020/marvel_knights_animation_presents_inhumans_on_dvd_423
Superman: Unbound Trailer arrives
http://www.comicsalliance.com/2013/01/31/superman-unbound-trailer-video/
TRAILER: Iron Man 3 Super Bowl Trailer arrives
http://www.bleedingcool.com/2013/02/03/iron-man-3-superbowl-spot/
Feedback
Matthew White asks about digital comics
https://www.facebook.com/BehindThePanels/posts/446110745459250?notif_t=like
Mike from Canada shares:
http://www.geeksofdoom.com/2012/11/21/patton-oswalt-gets-brutally-honest-about-the-failures-of-blade-trinity?utm_source=zergnet.com&utm_medium=referral&utm_campaign=zergnet_37584
The Rest…
Have you got something to say? We want to hear from you, send email to feedback@behindthepanels.net or drop us a voicemail at Skype ID: geek actually and we'll play it on the show.
If you are an iTunes user, subscribe for free here and please leave us feedback. The next two or three issues will also come out on the Geek Actually and Film Actually feeds to get things started.
Join us on our new Facebook Fan Page, follow Geek Actually on Twitter @geekactually and follow David on Twitter @davidmcvay Find more by Richard Gray by visiting theReelBits.com or follow him on Twitter @DVDbits
Make sure you check out our new range of Geek Actually swag at cafepress.com.au/geekactually
We end the show this week with "Roxanne" by The Police.