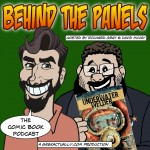 In this issue, prepare for Oz Comic-con! Plus, a legend leaves Green Lantern, and Marvel sends us to Infinity and beyond…for free! DC cancels more, and more Arkham Asylum on the way. THEN Guardians of the Galaxy casting, and a whole mess of TV news from The Walking Dead, Arrow and S.H.I.E.L.D. PLUS our kick-ass pick of the week, The Underwater Welder by Jeff Lemire.
Our next reading assignment: The New Deadwardians by Dan Abnett and I.N.J. Culbard (DC/Vertigo).
Your Hosts: Richard Gray & David McVay with guest Dave Longo
Podcast: Play in new window | Download
Help us craft this show (via email and feedback) into the finest comic book podcast on the market. Make sure you subscribe to Behind the Panels on the link below.
Vintage Clip of the Week
The Superman/Aquaman Hour of Adventure (1967) – "The Menace of the Black Manta"
Comic News
Oz Comic-Con announcement
http://www.ozcomiccon.com/
Geoff Johns leaves Green Lantern!
http://www.huffingtonpost.com/2013/02/11/geoff-johns_n_2662917.html
Marvel launches Infinity with FCBD
http://www.geeksofdoom.com/2013/02/07/free-comic-book-day-2013-marvels-infinity-to-feature-more-thanos
DC Cancels 6, Adds 2
http://www.comicbookresources.com/?page=article&id=43640 and
http://www.huffingtonpost.com/bryan-young/exclusive-dc-comics-revea_b_2641445.html
Hello Kitty debuts as a comic book
http://www.bleedingcool.com/2013/02/11/hello-kitty-comic-books-to-debut-at-san-diego-comic-con-2013/
New Batman: Arkham game due in 2013?
http://finance.yahoo.com/news/time-warner-management-discusses-q4-191012645.html
Movie News
Chris Pratt is Peter Quill in Guardians of the Galaxy
http://www.deadline.com/2013/02/chris-pratt-getting-guardians-of-the-galaxy-lead/
..and Jason Momoa is Drax?
http://latino-review.com/2013/02/15/exclusive-marvel-drax-destroyer-guardians-galaxy/
Tested, but not offered: https://twitter.com/Borys_Kit/status/302509864222076928
Peter Dinklage joins X-Men: Days of Future Past
https://twitter.com/BryanSinger/status/301886258572046338
Arrow renewed for a second season
http://www.comingsoon.net/news/tvnews.php?id=100220
The Walking Dead mid-season return sees over 12 million viewers
http://blogs.amctv.com/the-walking-dead/2013/02/midseason-premiere-ratings.php
Production wraps on S.H.I.E.L.D
http://www.comingsoon.net/news/tvnews.php?id=100240
Feedback
David McVay is Hank Scorpio
http://www.imdb.com/character/ch0098286/quotes
The Rest…
Have you got something to say? We want to hear from you, send email to feedback@behindthepanels.net or drop us a voicemail at Skype ID: geek actually and we'll play it on the show.
If you are an iTunes user, subscribe for free here and please leave us feedback. The next two or three issues will also come out on the Geek Actually and Film Actually feeds to get things started.
Join us on our new Facebook Fan Page, follow Geek Actually on Twitter @geekactually and follow David on Twitter @davidmcvay Find more by Richard Gray by visiting theReelBits.com or follow him on Twitter @DVDbits Find more Dave Longo @davelongo at Twitter or on his site damngoodcup.com

Make sure you check out our new range of Geek Actually swag at cafepress.com.au/geekactually
We end the show this week with "Beyond the Sea" by Robbie Williams.