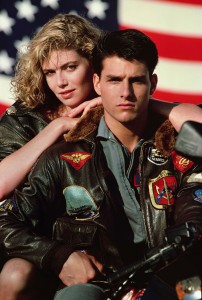 I feel the need, the need for speed!
Top Gun is back on the big screen, the very big IMAX screen! Still a giant cheese ball of a movie with very quotable, jingoistic, dialogue and more testosterone than can possibly be good for us. That being said it is hugely enjoyable for what it is. If this film was released today it would be laughed out of the cinema but as a high camp, 80s example of Reagan's cold war America it is a fantastically fun film that will have you cheering for a time long past.
Tony Scott's style of film making (smoke filled rooms, heat hazed landscapes and soft silhouettes) does not lend itself to a 3D conversion and it pretty much is a waste of time but you are seeing this for the opportunity to see it on the big screen (and nothing is bigger that IMAX) again and the sound alone is worth the ticket price.
This is a very exclusive and limited run of Top Gun at IMAX (America's has already finished) so don't miss out on this giant cheese filled piece of junk food on the big screen. Recommended.
You can also get this on Blu-Ray.