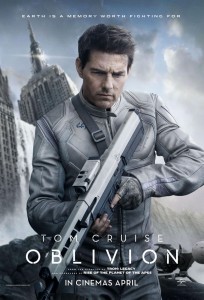 Oblivion, the latest film by Tron: Legacy director Joseph Kosinski, is a sumptuous feast for the eyes with near perfect visual effects and magnificent production design.
Tom Cruise stars as Jack, a maintenance worker in the future after the Earth is destroyed by an alien invasion. He works with his partner making sure that the defence drones that guard the last tech on the planet stay working. As the film goes on Jack finds himself questioning his job and his existence.
Based on an unpublished graphic novel written by Kosinski, the film is intelligent and engaging, a welcome change from all the usual genre fare around. Like The Matrix, it will make you think as well as thrill you. If you dig deep you may come up with a couple of plot questions but you will soon write them off because as a whole the film is pretty tight.
Oblivion is out now in wide release. Recommended.