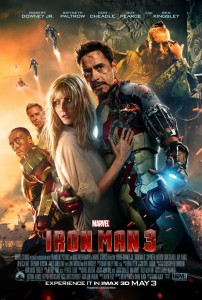 Tony Stark is back! Robert Downey Jr, reprising his role as the millionaire industrialist turned superhero, is magnificent in this stellar sequel to Iron Man, Iron Man 2 and The Avengers. Director Shane Black (Kiss Kiss Bang Bang) has delivered on all the bang of the previous films but has also crafted a very personal story for Stark that is as funny and touching as it is action packed. Series regulars Gwyneth Paltrow, Jon Favreau, Don Cheadle and Paul Bettany as the voice of JARVIS are back but make no mistakes, this is Downey Jr's film.
Set after the events of The Avengers, Stark is now in a state of post traumatic shock. He can't sleep and is building suits like a man obsessed. His relationship with his live in love, Pepper Potts, is strained and he seems to be at breaking point. Cheadle's War Machine armour has been re-branded as Iron Patriot to deal with a global terrorist called The Mandarin who is bent on teaching the U.S. President a lesson. Enter into this a past lover, micro-biologist Maya Hansen (Rebecca Hall) and a wronged by Stark competitor Aldrich Killian (Guy Pearce) and Tony's world is about to explode metaphorically and literally. Tony has to learn to not hide behind Iron Man but truly become Iron Man.
Black has made an interesting choice by keeping Stark out of his armour for a good percentage of the movie, making the movie about Stark's journey and less about a suit of armour. It makes the movie more of a Tom Clancy style thriller rather than a balls to the wall slugfest. That being said, when the action is on screen it is amazing, the skydiving scene in particular is edge of the seat thrilling and the final battle rivals The Avengers.
Iron Man 3 is out now in Australian cinemas and it is a must see for fans. Those who haven't dipped their toes in the Marvel waters yet might want to go watch Iron Man, Iron Man 2 and The Avengers before proceeding. As always with Marvel films, stay till the end of the final credits – you won't be disappointed.
For a more indepth review, shoot over to our Behind The Panels site to get Richard Gray's take on the film.