In this issue, we talk about the hours we've spent playing Injustice: Gods Among Us, and what else we'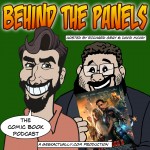 ve been reading. Then we look at the Thor: The Dark World trailer, all the latest headlines and our Kick-Ass Pick of the Week: (what else?) Marvel's  Iron Man 3.
Podcast: Play in new window | Download
Your Hosts: Richard Gray & David McVay with Nicholas McVay
Our next Issue: Judge Dredd – The Cursed Earth Saga by Patt Mills &  John Wagner with art by Mick McMahon & Brian Bolland.
For show notes in detail head over to Behind The Panels