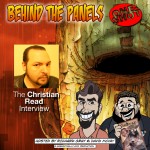 This week, Richard and David had the opportunity to sit down and chat with Christian Read, the Australia writer of the new novel from Gestalt, Black City. He's perhaps best known in the comics world for his mystical Western graphic novel The Eldritch Kid: Whiskey & Hate with artist Michael Maier.
Christian chats about the Australian comic book industry, magic and the writing of Black City, his comic work with The Eldritch Kid and Unmasked, along with upcoming projects Dread Empire, more Eldritch Kid and the anthology series Home Brew Vampire Bullets.
We need to thank Christian Read for his generous time and joining us in the studio, and we hope you enjoy this insightful interview with one of Australia's most interesting writers.
Chrisian Read will appear at the Oz Comic-Con in Melbourne on 6 and 7 July 2013 at the Gestalt Comics table. Drop in and say hi and buy some comics. You can buy tickets to the event at: http://www.ozcomiccon.com/
You can find out more about Christian Read by following him on Twitter or by visiting him at his official site http://www.christianread.com
Podcast: Play in new window | Download
The Rest…
Have you got something to say? We want to hear from you, send email to feedback@behindthepanels.net or drop us a voicemail at Skype ID: geek actually and we'll play it on the show.
If you are an iTunes user, subscribe for free here and please leave us feedback.
Join us on our new Facebook Fan Page, follow Geek Actually on Twitter @geekactually and follow David on Twitter @davidmcvay Find more by Richard Gray by visiting TheReelBits.com or follow him on Twitter @DVDbits