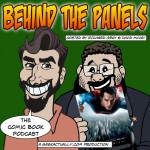 In this issue, Superman wants you…to join the US army! Then it's another mystery Marvel film, more casting news, what we've been reading, jumpers, coke and the loss of sweet Mary Jane. PLUS our Kick-Ass Pick of the Week: Man of Steel, the new Superman film from Zack "Snack" Snyder.
Podcast: Play in new window | Download
On our next Issue we skip the lines with our fabulous Supanova 2013 Special!
Your Hosts: Richard Gray and David McVay
Podcast: Play in new window | Download
For show notes in detail head over to Behind The Panels