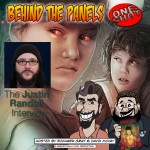 This week, Richard had the opportunity to chat with Australian writer and artist Justin Randall, the creator of the Aurealis Award-winning Changing Ways from Gestalt Comics. In addition to his creator-owned graphic novels, Justin has worked with IDW and Image Comics with art for 30 Days of Night: Eben and Stella, Silent Hill and contributions to anthologies Popbot, 24Seven, Character Sketches and Flinch. Justin is currently working on Changing Ways: Book 3, and works as a full time lecturer in illustration at Curtin University in Perth.
Justin talks about his start in comics, working on the Silent Hill and 30 Days of Night franchises, the technical aspects of his unique art style, the French language version of Changing Ways and "the biggest scoops of our lives" on Changing Ways: Book 3 and Changing Ways: Book 4…and a children's book!
Justin will appear at the Oz Comic-Con in Melbourne on 6 and 7 July 2013. Drop in and say hi! You can buy tickets to the event at http://www.ozcomiccon.com/
We need to thank Justin for his time, and the good people at Oz Comic-Con for arranging the chat.
Podcast: Play in new window | Download
The Rest…
Have you got something to say? We want to hear from you, send email to feedback@behindthepanels.net or drop us a voicemail at Skype ID: geek actually and we'll play it on the show.
If you are an iTunes user, subscribe for free here and please leave us feedback.
Join us on our new Facebook Fan Page, follow Geek Actually on Twitter @geekactually and follow David on Twitter @davidmcvay Find more by Richard Gray by visiting TheReelBits.com or follow him on Twitter @DVDbits

Make sure you check out our new range of Geek Actually swag at cafepress.com.au/geekactually
At the request of Justin, music used for this podcast is "Little Things of Venom" by Arid.