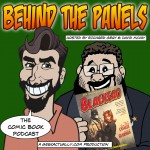 In this issue, Rocket Raccoon gets a voice, James Spader puts on robot pants, Vin Diesel teases his Marvel future and the Shuster Awards are announced. All this PLUS our Kick-Ass Pick of the Week, Blacksad: Somewhere Within the Shadows by Juan Diaz Canales and Juanjo Guarnido.
On our next Issue: Saga (1 – 12) by Brian K. Vaughan and Fiona Staples
Your Hosts: Richard Gray and David McVay and Dave Longo.
Podcast: Play in new window | Download
For show notes in detail head over to Behind The Panels