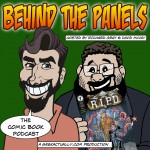 In this issue, Glee comes to Arrow, Ant-Man crawls forward and Justin Bieber gets a random mention! THEN it's what we've been reading and DC's latest PR disaster. All this, PLUS our Kick-Ass Pick of the Week, R.I.P.D. (#1 – 4) by Peter M. Lenkov and Lucas Marangon.
On our next Issue: S.H.I.E.L.D.  by Jonathan Hickman and Dustin Weaver.
Hosted by Richard Gray, David McVay and Dave Longo.
Podcast: Play in new window | Download
For show notes in detail head over to Behind The Panels