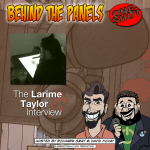 This week, Richard and David had the opportunity to chat with California-based writer/artist Larime Taylor, creator of the upcoming ongoing comic series, A Voice in the Dark. The thriller is mixed with a hefty dose of inky black comedy, described by Terry Moore as "Strangers in Paradise meets Dexter".  Already a Kickstarter success, the new series offers a chance to explore the strange town of Cutter's Circle, with a strong female lead – who also happens to be someone trying very hard not to kill again.
What casual readers may not know about Larime is that he was born with Arthrogryposis, a condition that inhibited the development of his limbs in utero and left him with limited use of his arms and legs. Writing, illustrating and toning the comics entirely with his mouth and a Wacom tablet, Larime talks to us about the creative process, pitching the comic to the publishers and what we can expect in the near future.
The first issue of A Voice in the Dark is released on 20 November 2013 from Top Cow/Image Comics. You can find Larime online at larimetaylor.com or on Twitter @xlarimex.
We need to thank Larime for his time, and we hope to get him back on the show in the near future for another chat.
Podcast: Play in new window | Download
The Rest…
Have you got something to say? We want to hear from you, send email to feedback@behindthepanels.net or drop us a voicemail at Skype ID: geek actually and we'll play it on the show.
If you are an iTunes user, subscribe for free here and please leave us feedback.
Join us on our new Facebook Fan Page, follow Geek Actually on Twitter @geekactually and follow David on Twitter @davidmcvay Find more by Richard Gray by visiting TheReelBits.com or follow him on Twitter @DVDbits

Make sure you check out our new range of Geek Actually swag at cafepress.com.au/geekactually
At the request of Larime, music used for this podcast is "Red Right Hand" by Nick Cave and the Bad Seeds.