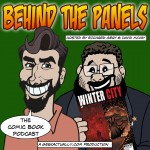 In this issue, we tell you what we think about Marvel's Agents of S.H.I.E.L.D. Spoilers: most of it will be drooling. THEN Constantine gets the go ahead for a network TV series: Alan Moore must be rolling in his grave. All this, PLUS our Kick-ass Pick of the Week, Winter City by our special guests in the studio, writers Patrick and Carl Purcell.
On our next Issue: Arkham Asylum by Grant Morrison and Dave McKean.
Hosted by Richard Gray, David McVay and Dave Longo.
Podcast: Play in new window | Download
For show notes in detail head over to Behind The Panels