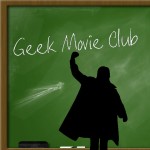 This week we launch a new show… kinda. This pilot episode of "The Geek Movie Club" is here for your feedback. With your help we hope to craft this new movie and entertainment style show into the finest and hopefully funniest show on the web. We had a lot of fun recording it and the site, geekmovieclub.com will be open soon. Also a new iTunes feed will be active soon. The new site will carry the show notes, like BehindThePanels.net does for that show now.
Podcast: Play in new window | Download
David McVay, Richard Gray and David Longo host this mass of news, reviews and gossip. If you have feedback for the show shoot an email to feedback@geekmovieclub.com we would love to hear from you.