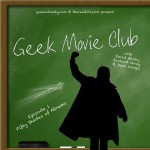 On this special first episode we discuss housewife porn, take a trip through time with Richard's Adventures in Time and Space, kind of look at the week's entertainment news, get an update on the Fall season of television, hear Woody Allen rap and wrap up with a Star Wars quiz. So much entertainment, it took 58 minutes to contain it.
Podcast: Play in new window | Download
David McVay, Richard Gray and David Longo host this mass of news, reviews and gossip. If you have feedback for the show shoot an email to feedback@geekmovieclub.com or drop us a voice mail on Skype (user ID: geekactually), we would love to hear from you.