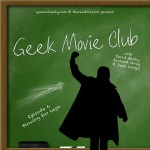 This week David, Richard and Dave discuss Bieber's arrest and Christy Mack's amazing offer, what a wonderful Lego fan and geek she is. Richard updates us on his journey through "Doctor Who" and three films are reviewed, "The Hobbit: The Desolation of Smaug", "47 Ronin" and "Jack Ryan: Shadow Recruit". So much entertainment, it took 58 minutes to contain it. This is The Geek Movie Club, the podcast that is commiserating the loss of Justin Bieber's anal cherry… just a reminder, this podcast is for mature listeners!
Podcast: Play in new window | Download
David McVay, Richard Gray and David Longo host this chaotic mess of a show. If you have feedback for the show shoot an email to feedback@geekmovieclub.com or drop us a voice mail on Skype (user ID: geekactually), we would love to hear from you.
Subscribe for free on iTunes and never miss an episode.