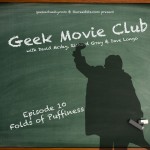 This week we have new microphones and we have no idea how to use them. While we play with our new toys we review 300: Rise of an Empire and Richard gives us a taste of The Muppets Most Wanted. Since we still had time, we discussed Russian politics and why the hell is Steven Seagal telling us about it. And to cap it off, Longo asks a question… which did you you prefer Terminator 2 or Aliens? So much entertainment, it took 50 minutes to contain it. This is The Geek Movie Club, the podcast that has new microphones… just a reminder, this podcast is for mature listeners!
Podcast: Play in new window | Download
David McVay, Richard Gray and David Longo host this chaotic mess of a show. If you have feedback for the show shoot an email to feedback@geekmovieclub.com or drop us a voice mail on Skype (user ID: geekactually), we would love to hear from you.
Subscribe for free on iTunes and never miss an episode.