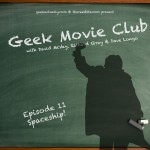 This week the boys are joined by David's son and Lego Animator Nicholas McVay for a review of The Lego Movie. While we are all together Dave Longo and Richard give us a spoiler free preview of Captain America: The Winter Soldier (full review still to come) and Richard tells us why The Raid 2 is better than the first one. Since we were here, Richard and Dave also talk a little about Doctor Who. So much entertainment, it took 55 minutes to contain it. This is The Geek Movie Club, the podcast that likes to play with little plastic bricks… just a reminder, this podcast is for mature (and immature) listeners!
Podcast: Play in new window | Download
David McVay, Richard Gray and David Longo host this chaotic mess of a show with a little help from guest host Nicholas McVay. If you have feedback for the show shoot an email to feedback@geekmovieclub.com or drop us a voice mail on Skype (user ID: geekactually), we would love to hear from you.
Subscribe for free on iTunes and never miss an episode.