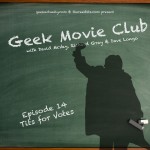 This episode is a little late but this week the boys discuss Eurovision 2014 and those Polish girls! Also this week we review Bad Neighbours and Transcendence plus a look at the week's television with Fargo, Arrow, Marvel's Agents of S.H.I.L.D. and the return of 24 all taking centre stage. If you need more we also discuss the upcoming marathons of Buffy The Vampire Slayer and Star Trek for your (and our) entertainment. So much entertainment, it took 42 minutes to contain it. This is The Geek Movie Club, the podcast that has been away for a long time… just a reminder, this podcast is for mature (and immature) listeners!
Podcast: Play in new window | Download
David McVay, Richard Gray and David Longo host this chaotic mess of a show. If you have feedback for the show shoot an email to feedback@geekmovieclub.com or drop us a voice mail on Skype (user ID: geekactually), we would love to hear from you.
Subscribe for free on iTunes and never miss an episode.