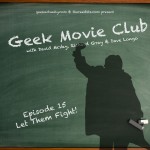 In this episode the boys explain why the shows have been taking a break, talk about Australian politics and marvel at JJ Abram's awesomeness. We also review a whole bunch of movies, including Chef, Godzilla, X-Men: Days of Future Past, Maleficent, A Million Ways to Die in the West and Jodorowsky's Dune. If you need more we also schedule the Buffy The Vampire Slayer marathon. So much entertainment, it took 72 minutes to contain it. This is The Geek Movie Club, the podcast that if it ran for office it would keep it's campaign promises… just a reminder, this podcast is for mature (and immature) listeners!
Podcast: Play in new window | Download
David McVay and Richard Gray host because Dave Longo is at the Sydney Film Festival. If you have feedback for the show shoot an email to feedback@geekmovieclub.com or drop us a voice mail on Skype (user ID: geekactually), we would love to hear from you.
Our Theme Created by Adrian Dal Bianco
Subscribe for free on iTunes and never miss an episode.